Pine Knob Music Theatre | Clarkston, Michigan
It's the co-headlining tour from hell as Rob Zombie & Marilyn Manson come to DTE Energy Music Theatre on Wednesday 11th July 2018 for their 'Twins Of Evil: The Second Coming' Tour! Named in relation to their 2012 'Twins of Evil' Tour, the shock rockers will be hitting the road together again, bringing their twisted heavy metal to the masses in this mighty show!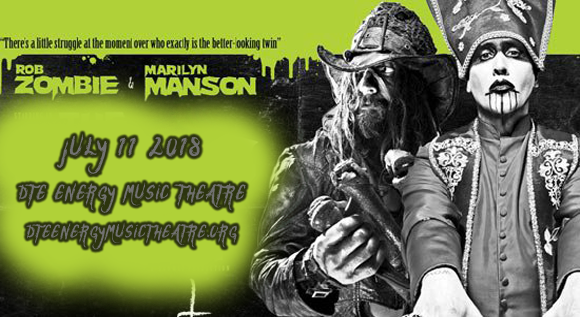 Originally known as the frontman and co-founder of heavy metal group White Zombie, Rob Zombie is an American musician, film-maker and screenwriter. White Zomboe was formed in 1985 and found success throughout he late 1980s and early '90s before disbanding in 1998, one month after the release of Zombie's debut solo album, Hellbilly Deluxe. They were best known for the singles "Thunder Kiss '65", "Black Sunshine" and "More Human than Human". In 1996, Zombie released a collaboration with Alice Cooper called "Hands of Death (Burn Baby Burn)", which was nominated for Best Metal Performance at the 39th Annual Grammy Awards, leading him to pursue his solo career further. Hellbilly Deluxe was a commercial success for Zombie, reaching the top five of the Billboard 200 and selling over three million copies in the United States. To date, Zombie has released six studio albums, his latest being 2016's The Electric Warlock Acid Witch Satanic Orgy Celebration Dispenser.