Pine Knob Music Theatre Seating Chart
The Pine Knob Music Theatre (formerly DTE Energy Music Theatre) has a seating capacity of 15,274, located in the heart of Michigan and surrounded by the green forests of Clarkston. Check out the handy seating chart below to get a better idea of the seating arrangements.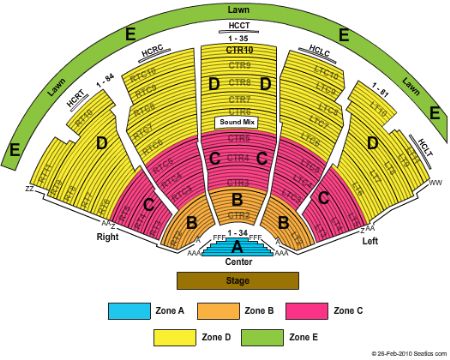 As you can see from the chart the Pine Knob Music Theatre has 5 main seating zones. The majority of the seating areas are covered with a large fixed canopy, then a smaller rear outdoor area lawn.
Please be aware that seating prices may vary depending on which seats you buy your tickets for.
Accessible Seating
Accessible seating is located at the rear if the pavilion, a raised section platform is located to the left and is priced as a pavilion ticket. Additional Companion seats may be purchased.
To view all our upcoming events and performances please visit our Pine Knob Music Theatre events page.