Pine Knob Music Theatre | Clarkston, Michigan
Good news, country music fans! Zac Brown Band is heading to DTE Energy Music Theatre on Saturday 2nd July 2016! The beloved group are undertaking an extensive 29-date tour this summer, dubbed the Black Out the Sun Tour, inspired by a lyric from "Tomorrow Never Comes" on their latest smash hit album Jekyll + Hyde! The award-winning troubadours will be joined on the road by rising star Drake White, so fans can look forward to a whole night of top quality country!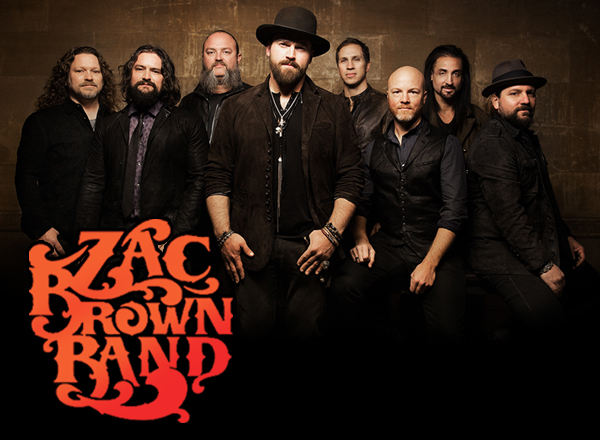 The Zac Brown Band is associated with a chock-full of country music tracks that never fail to elicit fun, laughter, good times, great memories, and good vibes. "Chicken Friend," "Whatever It Is," "Toes," "Highway 20 Ride," "Free," "As She's Walking Away," "Colder Weather," "Knee Deep," "Keep Me IN Mind," "No Hurry," "Sweet Annie," and "Homegrown", are just a few of the many songs that placed the Zac Brown Band in the iconic status that they enjoy today.
Zac Brown started out as some kind of a one-man-band in 2002, who performed on a heavy gig schedule of about 200 bookings a year. His performances evolved into a full blown band in 2004, which now consists of the following band members: The lineup consists of Zachry Alexander "Zac" Brown (lead vocals, guitar), Jimmy De Martini (fiddle, vocals),John Driskell Hopkins (bass guitar, guitar, baritone guitar, banjo, ukulele, upright bass,vocals[1]), Coy Bowles (guitar, keyboards), Chris Fryar (drums), Clay Cook (guitar, keyboards, mandolin, steel guitar, vocals), Matt Mangano (bass guitar), and Daniel de los Reyes (percussion).
Zac Brown Band has 10 number one chart-topping hits to their name, out of 16 singles that have entered radio charts. They have bagged awards and nominations in almost every major music award giving bodies like The Grammys, American Music Awards, Country Music Association Awards *(CMAA), CMT, and Academy of Country Music (ACM).