Pine Knob Music Theatre | Clarkston, Michigan
Icon rockers Tom Petty and The Heartbreakers are touring this summer in support of their newest album 'Hypnotic Eye' which was released on July 29th. Not only are they supporting this album but offering a copy of it with every ticket purchase, (selected retails only). Joining the show is English musician Steve Winwood who is well known for mixing genres: rock, blue-eyed soul, rhythm and blues, blues rock, pop rock, and jazz. Don't miss the action, grab your tickets now!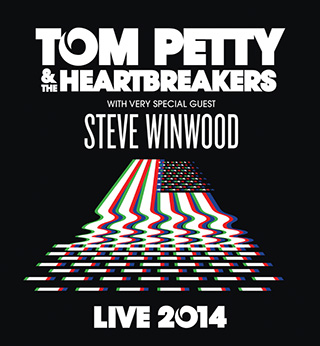 Thomas Earl "Tom" Petty (born October 20, 1950) is an American musician, singer, songwriter, multi-instrumentalist, and record producer. He is best known as the lead vocalist of Tom Petty and the Heartbreakers, but is also known as a member and co-founder of the late 1980s supergroup the Traveling Wilburys (under the pseudonyms of Charlie T. Wilbury, Jr. and Muddy Wilbury) and Mudcrutch.
He has recorded a number of hit singles with the Heartbreakers and as a solo artist, many of which remain heavily played on adult contemporary and classic rock radio. His music has been classified as rock and roll, heartland rock and even stoner rock. His music, and notably his hits, have become popular among younger generations as he continues to host sold-out shows.