Pine Knob Music Theatre | Clarkston, Michigan
Are you ready to 'shout and let it all out?! It's time to get head over heels and raise those voices as Tears for Fears is hitting the stage at DTE Energy Music Theatre on Wednesday 15th June 2022 bringing along post-grunge and rock band "Garbage", as they embark on The Tipping Point World Tour. The band is known for their global chart-topping and fan-favorite hits such as "Mad World", "Everybody Wants to Rule the World", "Head over Heels", "Sowing the Seeds of Love", and much more just recently dropped their newest single "The Tipping Point" off of their highly-anticipated upcoming album of the same name. Pretty sure that TFF fans have been shouting and head over heels as their faves return to the stage with their favorite smash hits and brand new music. What are you waiting for? Book your tickets now!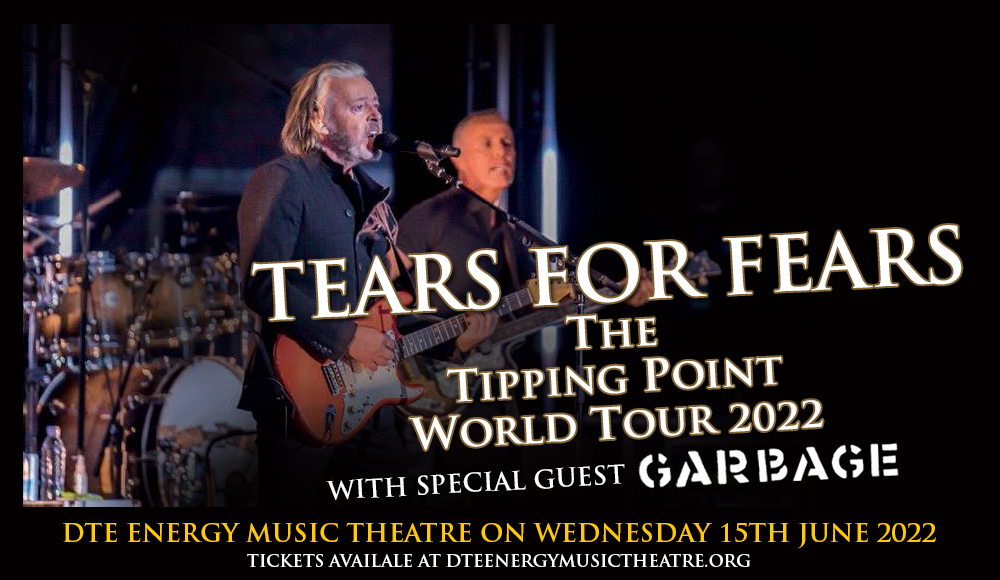 At its core, Tears for Fears is brought to life by members Curt Smith and Roland Orzabal with their roots in England, when they started recording at a music center when they were 15, then reuniting to form Tears for Fears in 1981, with the name inspired by the "primal scream" theory by psychologist Arthur Janov. The band released 2 singles prior to their breakout hit "Mad World" from their debut album, The Hurting.
1992's "Mad World" reaching #3 in the UK set the band to gain success and massive attention, followed by their next single "Change", their first single to enter the US Billboard Hot 100.
By 1994, the band amassed worldwide attention with their multi-platinum record, Songs from the Big Chair. "Shout" marked the band's beginning of international fame, reaching #1 in the US, being a hit single in multiple territories. Their next single "Everybody Wants to Rule the World" is their highest-charting UK hit, also reaching #1 in the US and Canada.
Through decades, Tears for Fears' smashers remain crowd-favorites going further with "Head over Heels", "Break It Down Again", "Sowing the Seeds of Love", "Laid So Low", and many more.
Fast-forward to 2022, the band kicking and more than ever ready to drop their latest studio record "The Tipping Point", along with a world tour. "The Tipping Point has been a long time in the making and we are looking forward to playing our favorites from the new album as well as our classics from throughout the years." says Orzabal.
"We couldn't be more excited to start playing concerts again. We've missed seeing our friends on the road around the world and the energy of performing live," says Curt Smith. The iconic duo is excited and more ready than ever to hear you shout to your favorite hits and brand-new tracks from The Tipping Point. Are you head over heels to meet the boys? So, book your tickets right now!