Pine Knob Music Theatre | Clarkston, Michigan
Have fun in the sun and get a refreshing splash of the cool 90s alternative pop beats from SMASH MOUTH, SUGAR RAY, BLUES TRAVELER, and UNCLE KRACKER. This smashing line-up completes the Under The Sun Summer Tour of 2014 — an annual music festival that brings together iconic 90s alternative bands together onstage for a spectacular showcase that will truly rock your summer!
Sugar Ray's Mark McGrath says: "Looking forward to once again spending the summer with my friends, performing the hits we all love." As one of the headliner acts of this event, Sugar Ray will definitely bring the house down with their massive hits: "Someday," "When It's Over," and the twin #1 classics, "Fly" and "Every Morning," and more! Acheiving worldwide success with their string of hits, multi-platinum selling albums, countless sold-out concerts, and a strong solid fan base, Sugar Ray has been around for over two decades, bringing fun, sunshine, good vibes, and rock and roll.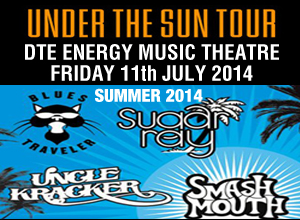 A summer soundtrack would not be complete without the songs of Smash Mouth. Their crazy-good, devil-may-care, summer sound has put them in the global music map. Their string of monster hits include "Can't Get Enough Of You, Baby," "Then The Morning Comes," and the #1 classics, "Walkin' On The Sun" and "All Star."
Blues Traveler will truly make this festival burst with free-spirited rock and roll vibe with their wide spectrum of styles which range from pop, folk and R&B to psychedelic soul and Southern rock.
Uncle Kracker has gone a long way from his DJ stint in Kid Rock's Twisted Brown Trucker band. His unique pop-rock-country-soul-blues singing style and his flair for writing songs, catapulted him to fame. From his 2001 chart-topping single "Follow Me", Uncle Kraker continues to make music milestones with successful tours and albums.
Indeed, the heat is on! Under The Sun Summer tour 2014 will make this summer truly a rocking blast from the past!