Pine Knob Music Theatre | Clarkston, Michigan
If you're missing Slipknot, then we've got some amazing news coming up from you. That's right, the world's leading nu metal band are BACK, and how!! With the Knotfest Roadshow, they bring you a killer lineup including Volbeat, Gojira and Behemoth – what more could you want?? The heaviest show you'll see this year is headed to the DTE Energy Music Theatre on Monday 12th August 2019 – be there!! Tickets are ON SALE NOW!!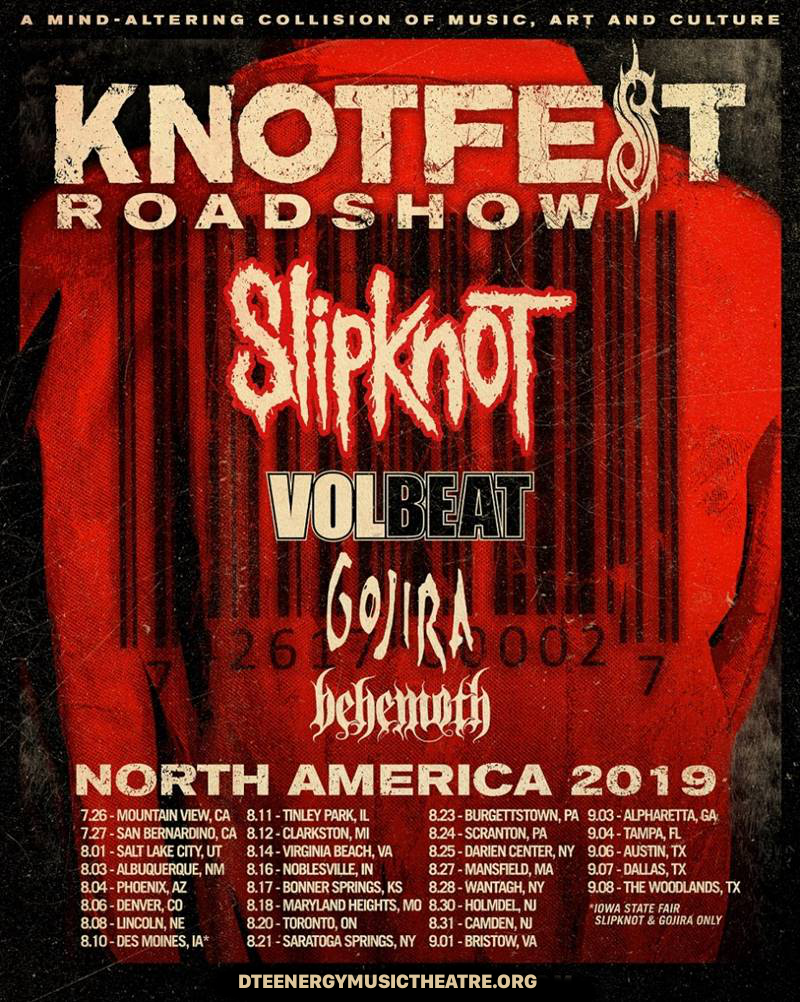 After a one-year hiatus while vocalist and frontman Corey Taylor worked on other projects, Slipknot are making sure all eyes are on them for their return in 2019!! With the release of their latest song "All Out Life," the band have given fans a taste of what to expect from their imminent upcoming studio album – and they might just be playing some of the new songs live!!
As if the lineup itself wasn't enough for this tour, fans can look forward to hearing new or possibly even as-yet-unreleased material from ALL the bands on this tour!! Volbeat have confirmed that they're currently working on their follow up to "Seal the Deal and Let's Boogie," released in 2016. Behemoth continue to tour with their album of last year, "I Loved You at Your Darkest," while 2019 marks the year that Gojira are expected to release the successor to their last album, the critically acclaimed "Magma".
It's a show NO metal fan can afford to miss – make sure that's not you! Hit the "Buy Tickets," button NOW to be sure of your place at the show!!