Pine Knob Music Theatre | Clarkston, Michigan
It's time for the biggest rock event of the year! The Rockstar Energy Mayhem Festival is storming its way into the DTE Energy Music Theatre on Thursday 17th July. They really have pulled out all the stops this year with a mega lineup which includes Korn, Avenged Sevenfold, Cannibal Corpse, Trivium and more! It is going to be absolute MAYHEM! Tickets are selling out fast so get your tickets now!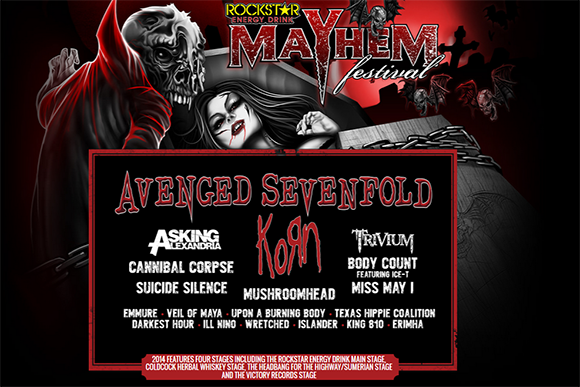 The Rockstar Energy Mayhem Festival delivers a hardcore rock lineup every year. Where the biggest rock bands on earth battle it out for ultimate stage domination! The mosh pits are the biggest you will ever see, Avenged sevenfold, trivium, Korn will be some of the top bands appearing, with smaller acts to follow!
Brace for an ultimate day of heavy rock, sizzling summer heat and more mosh pits than you can probably handle Tickets are available now, so what are you waiting for?!