Pine Knob Music Theatre | Clarkston, Michigan
Do you want to be part of the first EVER year of a brand new hard rock festival?? Get ready for Riff Fest, a huge celebration of all things heavy, coming for the very first time to the DTE Energy Music Center on Friday 29th September 2017!! Presented by 101 WRIF, it features a colossal lineup that includes Rob Zombie, Five Finger Death Punch, Halestorm Pop Evil, Greta Van Fleet and many more, with Fozzy and Rakey confirmed to play on the second stage. Riff Fest is ready to enter the festival sphere with a bang! Be there – book your tickets to Riff Fest today, while they last!!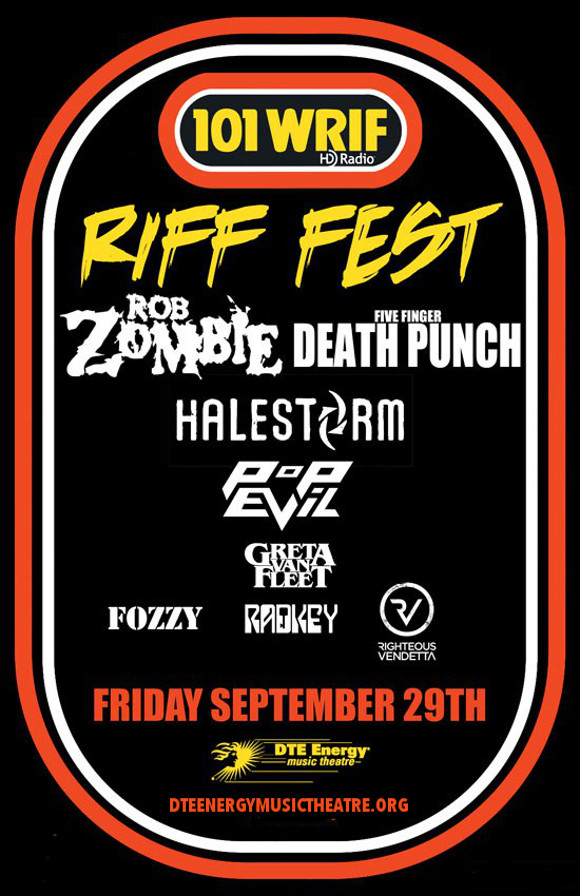 Co-headlining the festival are Rob Zombie and Five Finger Death Punch. Following up last year's "The Electric Warlock Acid Witch Satanic Orgy Celebration Dispenser," Rob Zombie will be playing the festival in between working on a new album, stating; "Right now we're just doing shows all summer, then we're starting a new record in August. And then I won't start a new movie till next year, 'cause it's all music for the rest of this year." Five Finger Death Punch, similarly, expect to have a new record out later this year. At Riff Fest we may well be hearing brand new material from both bands!!
Riff Fest opens at 1:30 p.m. on Friday, Sept. 29 with performances from Fozzy and Rakey beginning at 2 p.m. Make sure you're there – book early for your best chances of getting tickets!!