Pine Knob Music Theatre | Clarkston, Michigan
If you're looking for the ultimate hip-hop experience, you should quickly score tickets to the hottest show of the season! The If Ya'll Weren't Here, I'd Be Crying Tour featuring the one and only Post Malone is here, and it's taking over 25 cities in North America! This highly-anticipated trek will debut songs from Post's upcoming album, Austin, as well as massive hits from his previous releases! Fans can look forward to a plethora of platinum-selling singles and fan favorites, such as "Better Now," "I Fall Apart," "Rockstar," and "Psycho," among others! Lucky for Independence Township, Michigan fans, Post is set to make a coveted stop at the Pine Knob Music Theatre! This event is guaranteed to deliver the multi-award-winning artist's top-tier hip-hop staples and many more surprises! If you're keen on experiencing the must-see rap extravaganza, you quickly score your tickets now because Post's Michigan show is bound to sell out!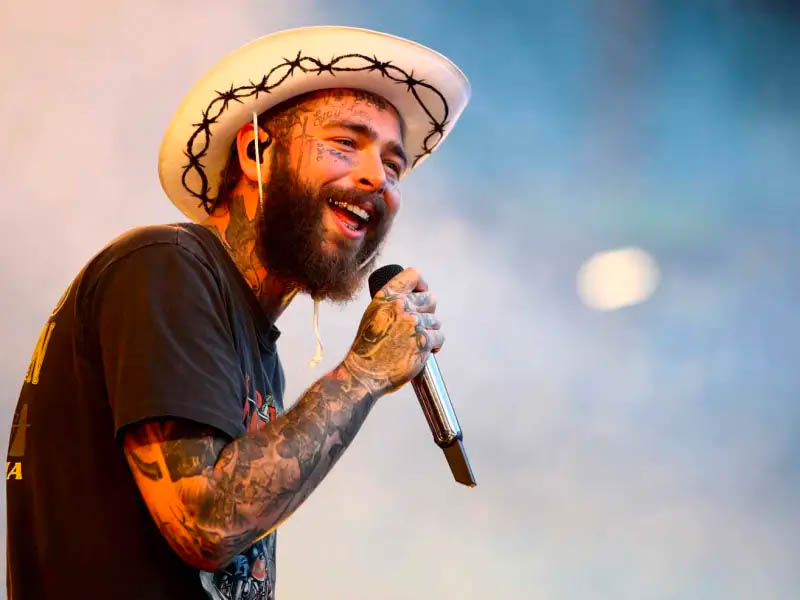 Post Malone's upcoming album is named after his real name, Austin. The celebrated rapper is set to release the highly-anticipated record 20 days after kicking off his North American summer tour. The album, already preceded by the Billboard Hot 100 hit "Chemical" and the newly-dropped "Mourning," comes after a series of platinum-selling studio albums. The 2023 effort is supposed to be Post's most personal work yet. He shared that the album " has been one of the most challenging, rewarding, and exciting records he worked on. "I feel it captures who I am as a man and as an artist in this moment. Thank y'all so much for your patience, and thank you for being there with me in my hardest times. I love y'all so much, and am ready to f—ing party with y'all." Post, who's loved by his fans and casual listeners for not only his music but also for his great and friendly personality, ended his statement with, "cheers, and keep spreading love."
Since emerging in 2011, Post Malone has been one of the most prominent hip-hop/R&B artists in the music scene. His music amassed a regular 59 million monthly listeners while he has accumulated one billion streams on the platform. Over on Tiktok, the #postmalone has over six billion views. He's also going viral at the moment, thanks to fan-recorded video clips of his friendly interaction with his fans.
In 2016, Post released his career-defining debut album, Stoney. The album spawned his breakout hit, "White Iverson," which broke into the Billboard 200 chart and topped the R&B/Hip-Hop and Rap charts. The record, which featured guest performances from Kehlani, Quavo, Justin Bieber, and more, was primarily produced by Post in collaboration with renowned music producers, such as Pharell Williams, Mustard, Frank Dukes, and more. Post demonstrated some country and outlaw music influences on this record. Stoney later sold five million copies in the U.S., earning five-time platinum status.
Two years later, Post dropped his sophomore effort, Beerbongs & Bentley. The album topped the charts in 12 countries, including two categories in the U.S. Billboard. The album spawned several hits, including "Rockstar," "Psycho," and "Better Now," – all of which charted impressively on the Billboard Hot 100. "Better Now" earned a diamond status after achieving incredible digital sales and streams across various platforms.
Post's subsequent albums continued to dominate the Billboard charts. In a span of five years, he also earned several accolades, including three American Music Awards, nine Billboard Music Awards, three iHeart Radio Music Awards, six iHeartRadio Titanium Awards, and a Juno Award. Post has also been nominated ten times at the Grammy Awards.
See Post Malone deliver his amazing hits at the Pine Knob Music Theatre this summer by scoring your tickets now!