Pine Knob Music Theatre | Clarkston, Michigan
Get ready to sing it in a cappella! The global sensation that took soaring vocals to the next level, Pentatonix, is embarking on an extensive world tour. Produced by Live Nation, the a cappella quintet is set to harmonize every note at Pine Knob Music Theatre on Sunday, 3rd of September 2023. Joining Pentatonix: The World Tour is special guest Lauren Alaina. Known for their goosebump-inducing renditions of "Telephone", "Mary, Did You Know?", and "Hallelujah", the group was just honored with a star on the Hollywood Walk of Fame for their dazzling live a cappella performances. Book your tickets now!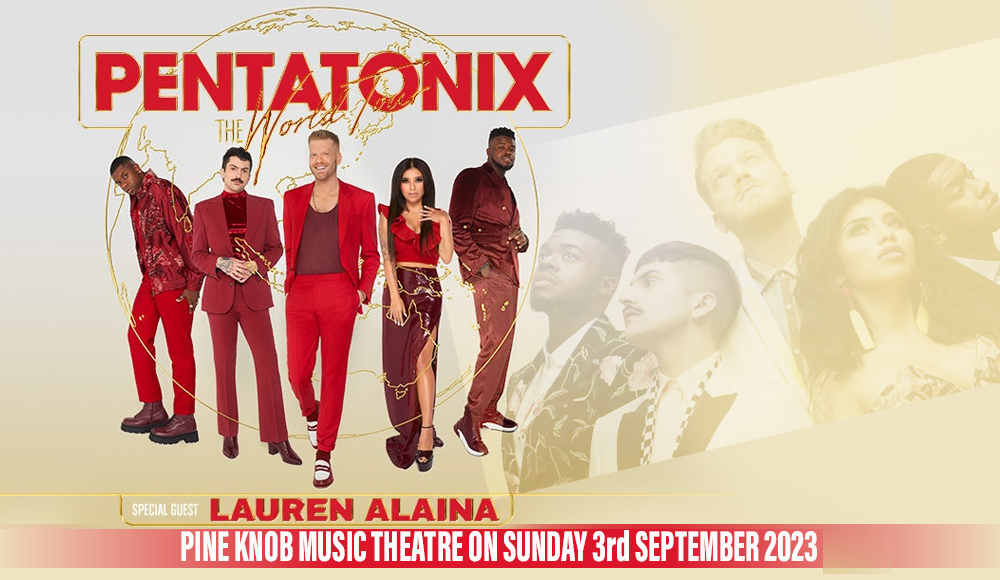 Making history by being the first a cappella group to be honored a star on the Hollywood Walk of Fame, the Grammy Award-winning quintet, Pentatonix, is holding a world tour, bringing their goosebump-worthy performances to the live stage across North America on a 24-city leg. What started as an entry in a local radio contest to win a meet and greet with the cast of Glee, the group's rendition of Lady Gaga's hit single "Telephone" became viral on YouTube.
Though they didn't get that meet and greet with Glee, Pentatonix soon found its way to dominating the global scene. Acclaimed for their pop-infused vocal harmonies, basslines, riffs, and beatboxing, Pentatonix's covers of mainstream hits and holiday favorites never fail to catch the world's attention. They've amassed over 20 million subscribers and 5.9 billion views on their YouTube channel.
As the whole gang met the day before auditions for NBC's "The Sing-Off", they went on to finish as champions on its third season in 2011. Since 2014, the group released a slew of albums which include their signature pop covers and holiday specials, selling millions of copies around the globe. Along with acclaimed a cappella covers, the group also released their own original music.
In February 2021, the band released their new original album "The Lucky Ones", six years since their last original record. Reflecting on their journey, Grassi shared in an interview with Atwood Magazine, "I think it's important to show that we are still human at the end of the day and that we are grateful for this incredibly surreal ride that we have been experiencing together. That we are unified through all this. It's this beautiful moment of reflection and compassion."
As Pentatonix comes soaring high, taking their note-worthy vocals back to the love stage at Pentatonix: The World Tour, bringing along special guest Lauren Alaina, make sure to save your spots at the show by booking your tickets now!