Pine Knob Music Theatre | Clarkston, Michigan
The band that took the world by storm with over ten years of best global hits including "Secrets", "Good Life", "If I Lose Myself", "Rescue Me", and "Counting Stars", OneRepublic is finally back on the road, kickstarting the Never Ending Summer Tour with special guest, NEEDTOBREATHE. Catch the band perform their biggest hits, new songs off of their 2021 record "Human", and their latest single "West Coast" at Pine Knob Music Theatre on Tuesday, August 2, 2022. OneRepublic is here to shine and bring fans a show to remember as they take part in bringing awesome live music back on stage across the country. Book your tickets now!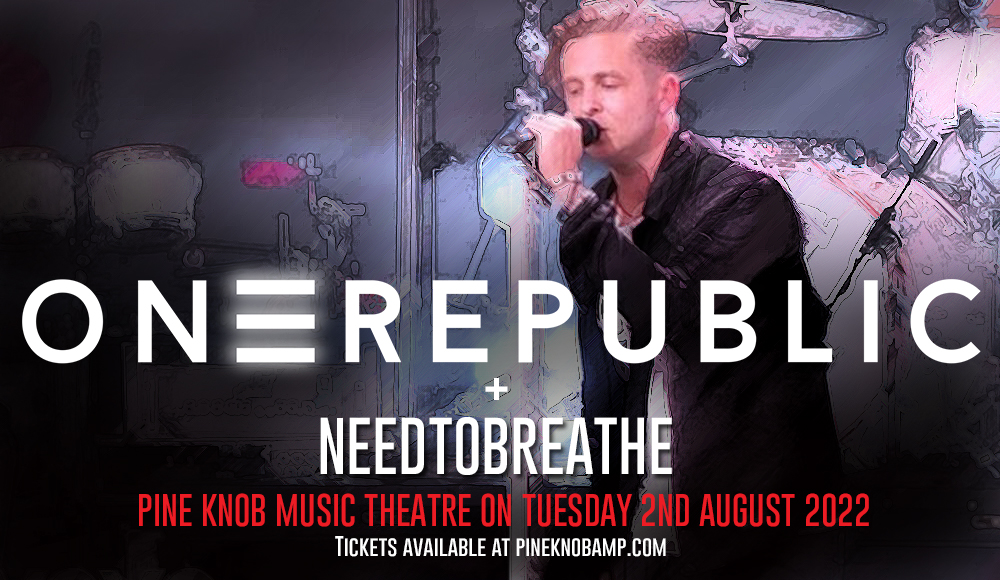 After releasing their 2021 album "Human" which featured the singles "Run" and "Someday", OneRepublic ended the year with a bang, dropping "Sunshine: The EP" featuring its single "Sunshine". The band then greeted 2022 with another new single "West Coast", singing "Sometimes you gotta run from a broken heart, Before I turn into a ghost, need a brand new start…".
Prior to OneRepublic's big break in 2007 with their RIAA Diamond-awarded debut single "Apologize", the band traces its 'never-ending journey to 1996 when lead singer Ryan Tedder and lead guitarist Zach Filkins decided to form a band named "This Beautiful Mess", performing small gigs until they parted ways as they entered college. Reunited in 2002, the duo formed a new band named "Republic" which later became the OneRepublic we know to this date.
The band faced a shaky start when their former label dropped them just two months before the release of their debut album. At the time, OneRepublic was gaining attention on MySpace, with Tedder saying they were the #1 unsigned act on the site, crediting MySpace for keeping them together. Then, they caught the attention of Timbaland's Mosley Group.
From a 'beautiful mess, OneRepublic became a massive success with their debut album Dreaming Out Loud released in November of 2007, featuring the hit lead single "Apologize", which was rearranged by record producer Timbaland, propelling the single to peak at #1 globally, now awarded 4x Platinum by the RIAA.
Their follow-up records "Waking Up", "Native", "Oh My My", and "Human", all amassed global hit singles such as "Something I Need", "Rescue Me", "Good Life", "If I Lose Myself", and the RIAA Diamond "Counting Stars".
Throughout their presence, the band amassed several awards and nominations including AMAs, Billboard Music Awards, People's Choice Awards, and the Grammy Awards.
It's a beautiful never-ending journey for the Grammy-nominated and highly acclaimed pop-rock band, OneRepublic. Catch them on their live show comeback on the Never Ending Summer Tour. Book your tickets now!