Pine Knob Music Theatre | Clarkston, Michigan
It's the end of the world as we know, and it's gonna be fine… Odesza Present: The Last Goodbye at Pine Knob Music Theatre on Thursday, September 8th 2022 with very special guests Elderbrook and Nasaya. Grab some tickets now, this could be the last you ever see of Oesza, maybe, but probably not, but can you afford to take the chance and miss it??? The electronic music duo has been on hiatus since the release of their 2017 album, A Moment Apart, but returned for their project with Golden Features in 2020, does The Last Goodbye also signify more? Only time will tell.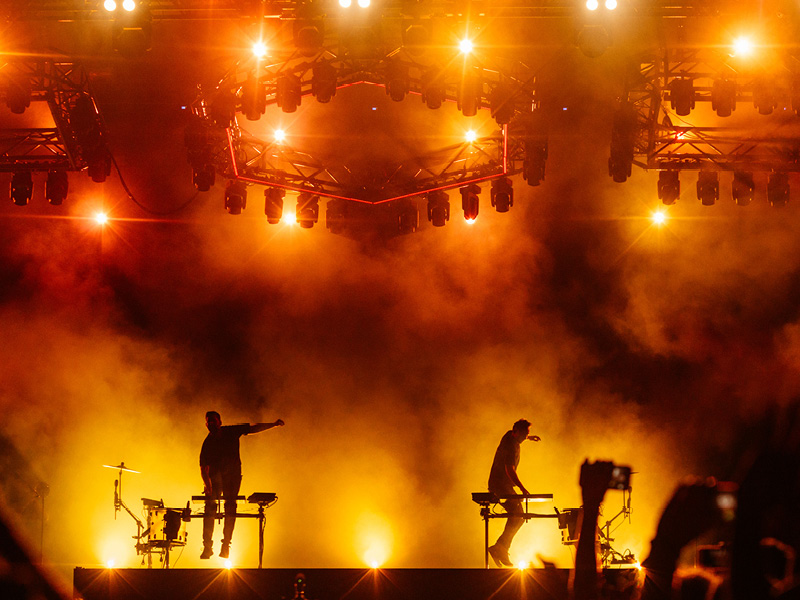 The EDM duo, ODESZA, formed in 2012 and are from Bellingham, Washington. They are Harrison Mills and Clayton Knight, known individually as Catacombkid and BeachesBeaches. ODESZA's previous album, A Moment Apart, possibly hinted at their long hiatus, and their latest song title, and their first new music in over four years, The Last Goodbye, has left everyone wondering if an upcoming album from ODESZA could be their "last goodbye" as a duo. The song was released in February 2022, and Odesza announced that their fourth studio album, also called, The Last Goodbye, will be released on July 22, 2022.
From across the pond in ol' blighty, musician, songwriter and producer Alexander Kotz is known professionally as Elderbrook. His most notable song is a collaboration with CamelPhat, titled "Cola", which reached number 1 on both the Dance Club Songs chart here, and on the Indie Chart in the United Kingdom. It was also nominated for Best Dance song at the 2018 Grammy Awards.
Hailing from Atlanta, Ga, Kiara Nasaya Mitchell is, professionally, Nasaya. She blends futuristic sounds and textures with retro, moody atmospheres, mixing diverse influences from Jamie xx, Tame Impala, Flume and Michael Jackson.
"In 5-billion years, the Sun will expand & engulf our orbit as the charred ember that was once Earth vaporizes. Have a nice day."
― Neil Degrasse Tyson