Pine Knob Music Theatre | Clarkston, Michigan
It is pretty sad news that Motley Crue is touring for the very last time. That being said, this is Motley Crue we are talking about here They will go out with a bang! Fans will not be disappointed, expect, the usual crazy antics, dark humor and surprises. Guest starring is metal legend Alice Cooper, tickets available now!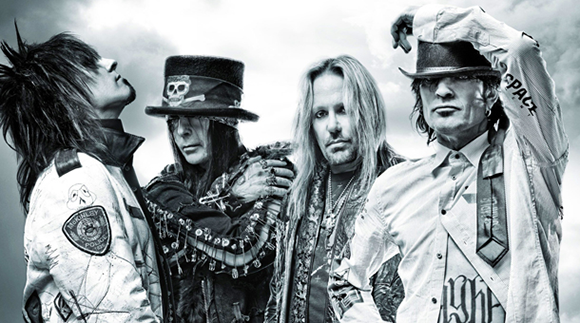 Metal band MÖTLEY CRÜE known for the hardcore metal ballads, hedonistic image and platinum status albums were formed in 1981 in Los Angeles, California. They have been praised for there multi-award winning albums, and touted as one of the greatest and notorious rock/ metal bands of all time. They have sold more than 100 million albums, securing their place as a platinum certified band.
Alice cooper is a Shock rock singer, songwriter and musician from Phoenix. His appearances on stage are often controversial and have featured Guillotines, electric chairs, fake blood and Boa constrictors and is often referred to as the godfather of Shock Rock.
He is also credtited as shaping the modern day metal music, The Rolling Stone Album guide has called him the worlds most "beloved heavy metal Entertainer". The original band named "Alice Cooper" which consisted of consisted of Furnier, lead guitarist Glen Buxton, rhythm guitarist Michael Bruce, bassist Dennis Dunaway and drummer Neal Smith. All of which except Smith, attended Camelback High School. Their first single "Schools out" went straight to number 1. In 1973 the band released the album "Billion Dollar Babies" which was the band most successful album, this reached number 1 in the UK and US.
The band are due to embark on their "Final Tour" Which is a farewell tour before they are due to retire in 2015. Fans can expect as much, blood, metal gore and surprises as any Motley Crüe tour, don't miss it!