Pine Knob Music Theatre | Clarkston, Michigan
Get ready for the show of a lifetime everyone; heavyweights of heavy metal Korn and Stone Sour are coming to the DTE Energy Music Theatre on Sunday 30th July 2017!! Fans of alternative metal prepared to be thrilled with a show featuring recent new material from both bands as well as all the songs you know and love – get your tickets NOW as they will sell out!!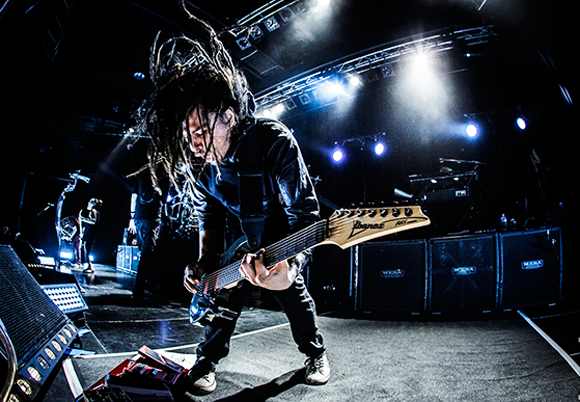 Korn are living legends in their own right, generally seen as being one of the primary founders of the nu metal genre, with their eclectic style in their first release blending elements of funk and hip-hip into metal, with these elements featuring heavily dropped tunings and dissonance. The band themselves don't seem concerned about how they're categorised, with lead singer Jonathan Davis saying recently; "Yeah, we're heavy and downtuned, but metal, to me, is like Judas Priest and Iron Maiden, that's metal man. I always thought of us as a funk band."
Stone Sour, similarly, have a strong mix of elements in their music, with thrash metal elements such as double kick drum patterns, reliance on heavy riffs, and screaming, but also take it right down to acoustic, with singing and melodies that are soft and soothing – some of the band's most popular material is comprised of songs that wouldn't be considered metal at all. Their impressive range of skills has shown itself again in their recent 3 releases, all of which are concept albums, leading to speculation that Stone Sour may be headed into progressive rock territory, though the band maintain that they are not by any meants a "prog band," but rather, wanted to offer something "more" in a world of music splintered by singles.
Whatever you want to call them, one thing is clear; these bands have something unique to offer and they're going to rock your socks off. Don't miss out!!