Pine Knob Music Theatre | Clarkston, Michigan
Two of the greatest warlords of rock music are joining forces to turn-up the summer heat with ear-piercing and mind-blowing intensity. Nu-metal band Korn and post-punk outfit Faith No More are embarking on a co-headlining tour to ratify their supreme reign over the realm of the hard-hitting rock music. And with a little help from riveting rockers Helmet & '68, Korn and Faith No More will take over the live stage of the DTE Energy Music Theatre on Thursday 10th September 2020. Such an iconic combination will bring music fans from both sides of the camp rushing in for tickets. When push comes to shove, take the easy and smart route. Just click on that 'get tickets' link on this site to give you that easy and quick advantage to secure your space. But time is of the essence. Hurry and book your tickets right here, right now!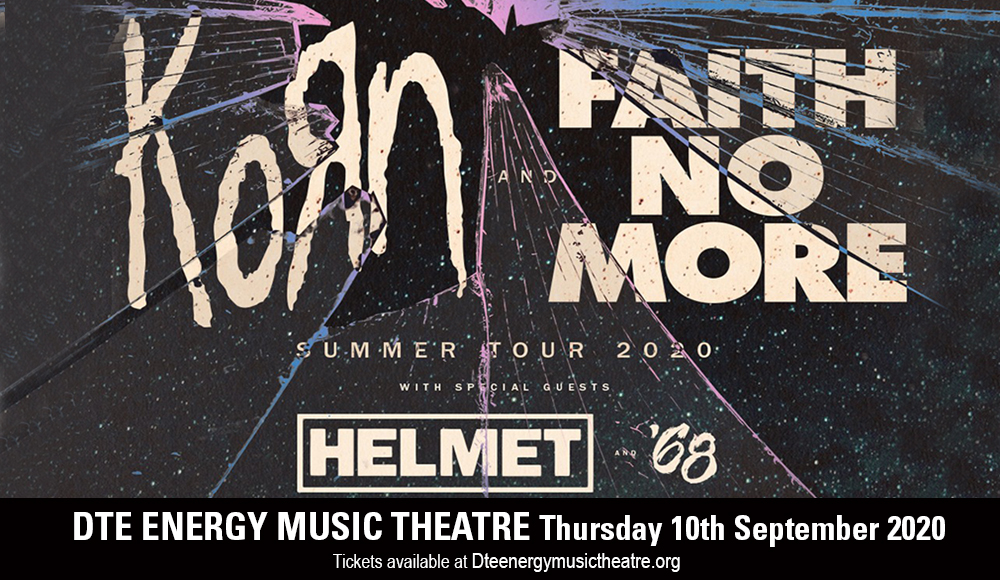 Without a doubt, KoЯn is credited for pioneering the nu-metal genre and bringing it into the mainstream. Korn debuted via the album "Korn, released in 1994; then followed by "Life Is Peachy" in 1996. Yet the band first experienced mainstream success with albums "Follow the Leader"(1998) and "Issues" (1999), both of which debuted at number one on the Billboard 200. From there the band started to build up a new fanbase who revered them for their nu-metal sound. As of 2012, Korn had sold more than 35 million records worldwide; and still counting…Korn's sales and radio chart successes marked their career with Seven platinum records, two certified double platinum, one certified triple platinum, one certified five times platinum, and two certified Gold. Award giving bodies have also legitimized and recognized their artistic impact as Korn scooped-up two Grammy Awards out of eight nominations, and two MTV Video Music Awards out of eleven nominations.
On the other side of the rock spectrum is Faith No More. Formed in 1979, the band has performed under the names Sharp Young Men and later Faith No Man, before settling on the current name in 1982. Faith No More has undergone so many member-changes over the years. The current lineup of Faith No More consists of Gould, Bordin, Bottum, lead guitarist Jon Hudson, and vocalist/lyricist Mike Patton. The band is often tagged, genre-wise as alternative metal, experimental rock, and funk metal or post-punk. Tim Grierson of About.com said the band "helped put alternative metal on the map. VH1's listed Faith No More at No. 52 on its prominent list of "100 Greatest Artists of Hard Rock". The band is credited as inventors of the alternative metal genre –a fusion of metal with other genres, including alternative rock, which they introduced in the 1980s.
Two of the most influential bands on the planet will come crashing on stage. Experience its explosive power that will shake concert grounds from beginning to end. Don't miss it!