Pine Knob Music Theatre | Clarkston, Michigan
Two of Hard Rocks biggest bands are coming LIVE on a co-headline tour! This just announced show is what everybody is talking about as the chance to catch these two groups at the same time is a rare opportunity that might never happen again. Get ready to be blasted with the best in Grunge and Nu Metal as Korn & Alice In Chains perform at DTE Energy Music Theatre on Tuesday 13th August 2019!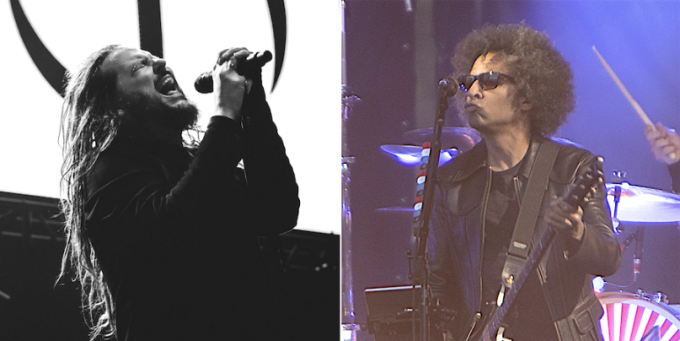 Korn:
As one of the biggest bands to walk the Nu Metal scene, Korn first came to light during the 1990's as they became widely known on the genre. Their music has since then influenced an endless list of bands and artists a like and their rock tracks have become smash hits across the mainstream. With their music video's that became as prolific as their music, they gained countless play on radio stations and on MTV and Kerrang video channels. Their triumphs gained them MTV Video Music Awards along with a total of 11 nominations. It's no wonder all of this success transformed their following into the huge global achievement they have up until today. Korn have released seven video albums and thirty nine music videos in total – highlighting their recording releases and pushing them up on the charts.
Alice In Chains:
Widely known for their influence on the grunge genre, Alice In Chains first started their career during the 1980's – 1990's, during the time of the movement with other bands such as Nirvana, Pearl Jam and Soundgarden. As they performed across Seattle they were quick to create a fan base as their music was a unique, unheard of sound that stood out from the rest of the bands at the time. Much like Korn, their music altered the circuit at the time and throughout the years have had a major influence on the rock and metal scenes.
Now with a total of 30 million record sales worldwide and 14 million in the United States alone, their career is still as strong today as it was back in the 80's and 90's. They have all together had two hit number one records and eighteen top 10 singles on the top Billboard and they keep on giving to their eclectic, ever growing following.
Both Korn and Alice In Chains are set to take the world by storm with a huge stadium tour this coming Summer time, fans can grab the chance to be a part of the roaring crowd and as they stop off across the stages, tickets are quickly being snapped up for this must-see concert of the year! Make your summer one you won't soon forget!