Pine Knob Music Theatre | Clarkston, Michigan
Fans of great down-to-earth, unapologetically Southern American comedy, rejoice – massive superstars Jeff Foxworthy & Larry the Cable Guy are teaming up on their "We've Been Thinking Tour"!! With a special recorded and released on Netflix, the rest of the tour will see them land at the DTE Energy Music Theatre on Friday 25th August 2017!!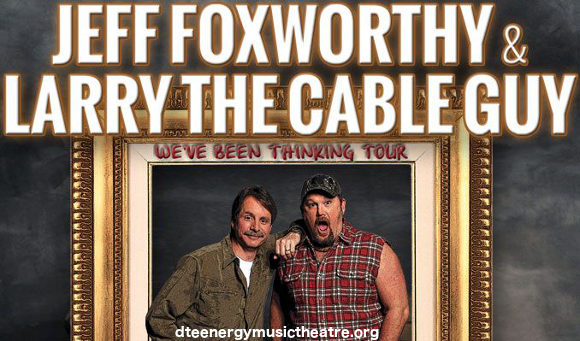 The two comedians share a long history together; they both starred on Blue Collar TV, and were two of the members of The Blue Collar Comedy Tour, along with fellow comedians Bill Engvall and Ron White. Both comedians are gold-certified comedy recording artists.
Jeff Foxworthy, bestselling author of 26 books, Grammy award nominee, and well-beloved in his home state of Texas, Jeff Foxworthy is best-known for his redneck humour. On his "We've Been Thinking Tour," he's updated his routine, focusing more on daily struggles, whether that's frustration at Wal-Mart shoppers or remorse at the process of his own ageing, followed by "facts of life" style anecdotes on our society, parents and the pain of kidney stones.
Daniel Lawrence Whitney, the loveable voice of "Mater" in Disney Pixar's Cars franchise and star of "Only In America With Larry The Cable Guy," closes the night with his unapologetic brand of lowbrow humour. Firmly in character, his ignorant, dim-witted alter-ego named Larry The Cable Guy, he attacks "policitcally correct," society with an exaggerated air that ultimately serves as self-mockery of those who identify with his character.
Don't miss your chance to catch these fantastic comedians live – get your tickets to see Jeff Foxworthy and Larry The Cable Guy TODAY!!!