Pine Knob Music Theatre | Clarkston, Michigan
The singer-songwriter, multi-instrumentalist, actor, record producer, actor, filmmaker, and a former professional surfer, a jack-of-all-trades is no other than Jack Johnson. The man is back to serenade his fans through his signature acoustic and soft rock hits. Early 2021, he dropped a new single with Paula Fuga featuring Ben Harper, "If Ever", a bittersweet but heartwarming duet where they share experiences of losing their fathers. Johnson has 7 studio records that all entered the Billboard 200, with four of them reaching #1 on the charts. Notable hits and fan-favorites include "Flake", "Sitting, Waiting, Wishing", "Better Together", "Upside Down", "You and Your Heart", and much more. It's surely gonna be a soulful night as Jack Johnson serenades you with his acoustic and soft rock hits to warm the heart. Book your tickets now!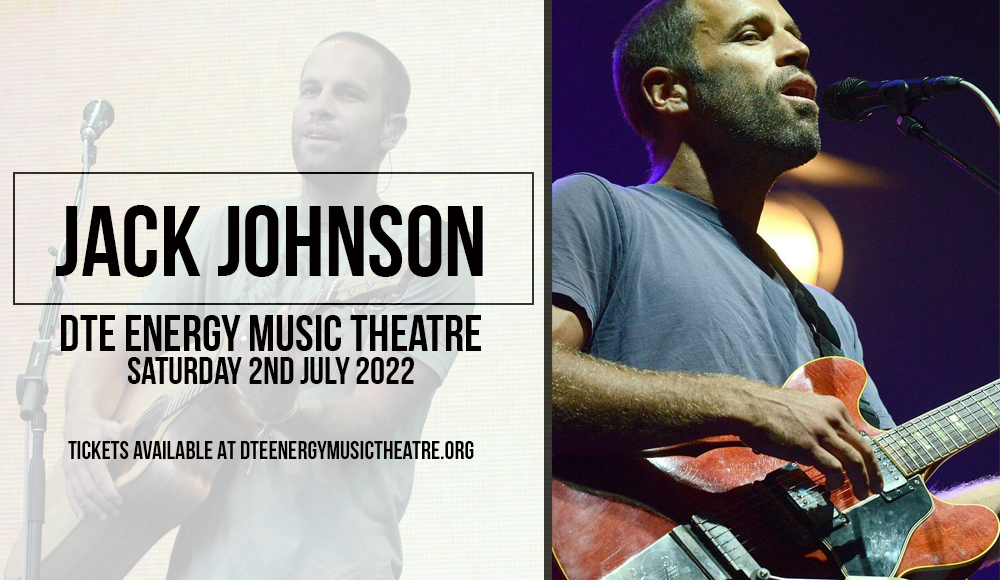 Born and raised in Hawaii, Johnson began surfing at the age of 5, learned the guitar at 8, and started writing songs at 12. He then played in a band during college. He wrote and contributed vocals for G.Love's "Rodeo Clown" who was drawn to his style saw potential. By 2001, he released his multi-platinum debut album "Brushfire Fairytales".
Through the years he dropped his succeeding albums "On and On" which reached #3, "In Between Dreams" reaching #2, and "Sleep Through the Static", "To the Sea", "From Here to Now to You" all topping the charts at #1 on the Billboard 200. His certified-platinum soundtrack album "Sing-A-Longs and Lullabies for the Film Curious George" also reached #1.
By 2017, he dropped his seventh studio album "All the Light Above It Too" where Johnson expressed that in the midst of trouble such as pollution and politics at the time, there's still a beautiful world to appreciate; naming the album as such with how the sun shines in all directions during the day.
Three years later, he dropped the single "Don't Let Me Down" with Milky Chance, taking the top spot at #1 on the US Adult Alternative Songs chart of July 2020. Later that year, he released another single "The Captain Is Drunk".
As 2021 came, fans were treated to another new heartwarming single "If Ever" with Paula Fuga, and as the year went by, eager fans received a gift as Jack Johnson announces a summer tour for the following year. So, get yourself ready for a night of chill, soulful, and heartwarming hits by the one and only Jack Johnson. Book your tickets now!