Pine Knob Music Theatre | Clarkston, Michigan
Are you ready for the hottest new event in music? Incubus, with their first new release in over six YEARS, are going on tour with Jimmy Eat World!! They'll be live in the DTE Energy Music Theatre on Sunday 23rd July 2017 – make sure you've got your tickets to this truly unmissable event, it's going to be immense!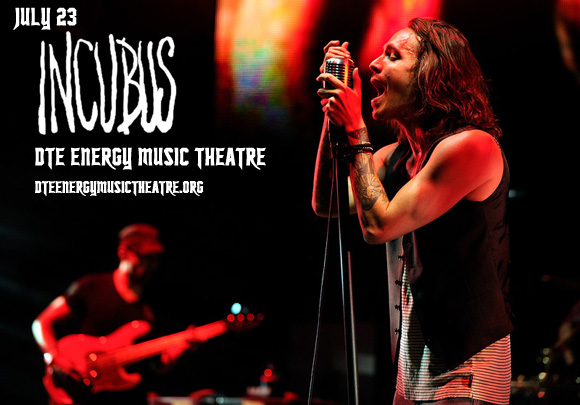 Earning commercial recognition in 1999 with "Make Yourself," with the well-received singles "Stellar" and "Pardon Me," Incubus blasted to the forefront of alternative music in 2001 with "Drive," and the following album "Morning View! IN 2006, their 6th studio album, "Light Grenades," shot to number one in the US Charts. Since, the band has reached multi-platinum sales, selling over 23 million albums worldwide. Having released their last album in 2011, hype is high in anticipation for their eighth release in 2017. Little is known, but we can guarantee that, released or not, Incubus will be performing some of this brand new material for you on the 23rd July.
Jimmy Eat World, hailing from Mesa, Arizona, reached mainstream success with hit singles from their 2001 album "Bleed American," four of which charted in the top twenty of the Hot Modern Rock Tracks, hitting number one with "The Middle". They will be touring in support of their ninth album, "Integrity Blues," released October 2016, and produced by Justin Meldal-Johnsen, known for his work with heavy hitters M83, NIN, and Paramore. Released to huge positive reception, the album was the tenth best selling album of the week in the US and is their highest charting album in the UK to date.
The massive success of these two bands can only be best explained by seeing them live and experiencing Incubus and Jimmy Eat World for yourself – get your tickets NOW!