Pine Knob Music Theatre | Clarkston, Michigan
It's time to get 'on top of the world as the pop-rock hitmakers behind world-dominating smash hits "Thunder", "Believer", "Demons", and so much more, the one and only Imagine Dragons, are taking whatever it takes to bring back their fans' favorite anthems and new music off of their latest record "Mercury" live on stage. Last 2021, the band dropped the first act off of its fifth studio record, Mercury, featuring hit singles "Follow You" and "Enemy" with JID. With much anticipation regarding the second act of their two-part record "Mercury", Imagine Dragons shared a new single "Bones" from "Mercury Act 2". As the band sings igniting life in their new single, catch them live at Pine Knob Music Theatre on Wednesday, August 24, 2022, on the Mercury World Tour. You can expect their signature radioactive energy as the crowd goes wild to the best Imagine Dragons anthems throughout the last decade. Book your tickets now!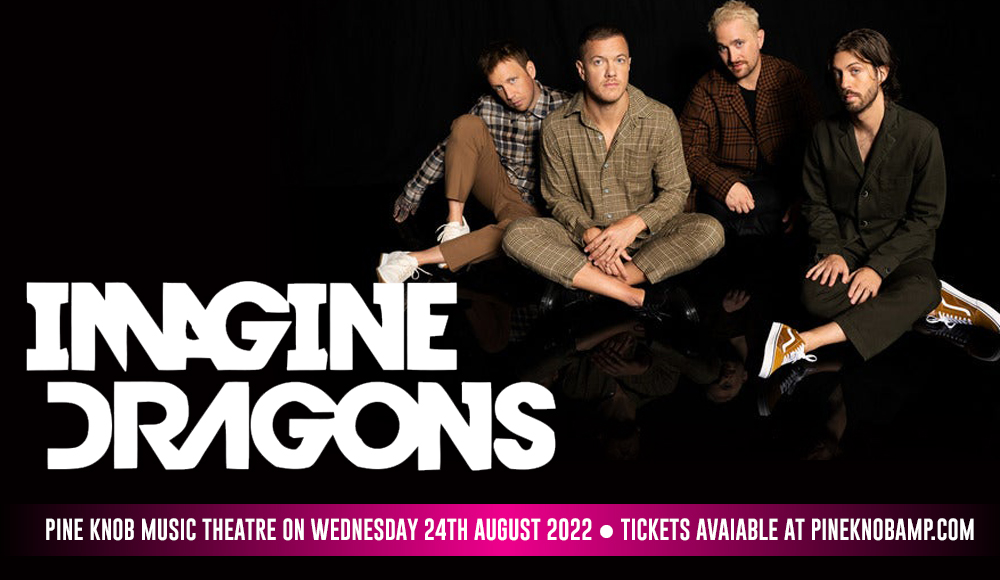 'Welcome to the new age, Imagine Dragon chants in their RIAA 14x Platinum single, "Radioactive". From then on, the band exploded into global success dominating charts with succeeding hits including "Demons", "Believer", "Whatever It Takes", "Natural", and many more.
The new age led by Imagine Dragons all began in 2008 when lead singer Dan Reynolds met former drummer Andrew Tolman in university and then recruited other members to form a band, releasing a couple of EPs and playing intimate shows. Imagine Dragons found its first big break at the Bite of Las Vegas Festival 2009, when Train's Pat Monahan felt ill prior to the show, to which Imagine Dragons was asked to fill in, playing for a crowd of over 26,000 people. From then on, Imagine Dragons was on the watch as one of indie's best-rising artists.
Imagine Dragons took the world by storm after the release of "It's Time" which peaked at #15 on the Billboard 100. Their debut album "Night Visions" hit #2 on the Billboard 200, awarded 7x Platinum by the RIAA. It also featured the 14x RIAA Platinum hit "Radioactive" which spent 87 weeks on the Hot 100 charts, the longest to do so before being surpassed by The Weeknd in 2021. "Radioactive" was hailed as "the biggest rock hit of the year", and was nominated for 2 Grammy Awards.
As they welcomed listeners across the globe to the new age of pop rock, Imagine Dragons continued to make radioactive waves of hits after hits across their succeeding albums "Smoke + Mirrors", "Evolve", "Origins", and 2021's "Mercury – Act 1".
As 2022 marked the radioactive return of Imagine Dragons, fans are pumped up for Mercury's second act, following the release of their newest single "Bones". Though the record's release date is yet to be announced, the band's electrifying live shows are finally back on the Mercury World Tour. So, don't miss out on a night of a decade of pop-rock's biggest hits and fresh new music live on stage by the one and only Imagine Dragons. Book those tickets now!