Pine Knob Music Theatre | Clarkston, Michigan
You heard right, Hootie And The Blowfish fans! After a decade of quiet, the 25th anniversary of their iconic album "Cracked Rear View," approaches – and the band are back together with a HUGE North American tour and plans for an all-new album!! With special support from the Barenaked Ladies, Hootie And The Blowfish are hitting the DTE Energy Music Theatre on Friday 16th August 2019 – be there and get ready to celebrate this timeless classic with one of the most iconic bands of South California!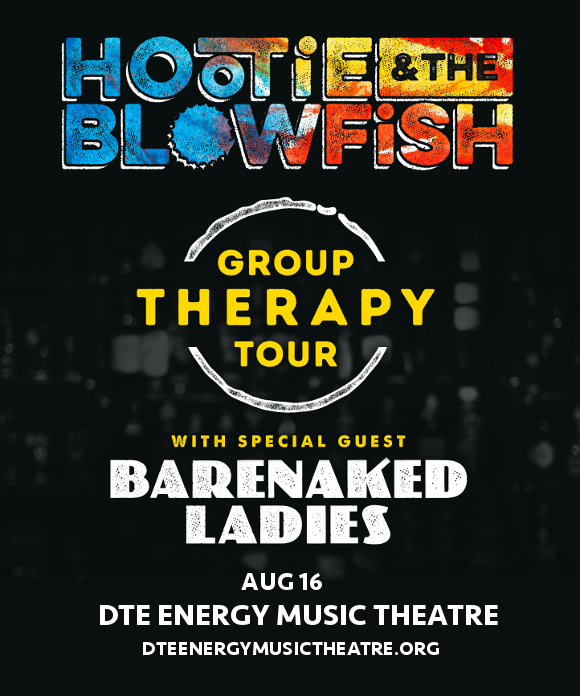 When it was released in 1994, Hootie And The Blowfish's debut album, "Cracked Rear View," was a surprise breakthrough hit, surfacing at a time when grunge music had taken over the world's radio stations. To date, the album has gained Platinum certification over 21 times, a truly incredible feat, and is the 19th best-selling album of all time in the United States! "Our music was going against the grain of what was popular on radio at the time," Jim Soenfield said, reflecting on the album's astonishing popularity. "It was more of the angst-driven, harder-edged rock and I think we brought back melody and brought back some of the harmony sounds that weren't really in the middle of rock radio at the time."
For many, "Cracked Rear View," holds a special place in heart and memory, and after the band disappeared in 2009, there have been few opportunities to reconnect with the group that brought you those memories. Now's your chance – grab your Hootie And The Blowfish tickets today!!