Pine Knob Music Theatre | Clarkston, Michigan
American rock powerhouses Godsmack and Staind are joining forces this summer to deliver fans an epic rager! The highly-anticipated co-headlining tour will cover over 20 select cities across North America! Lucky for fans in Michigan, this hard-hitting tandem will drop by Independence Township on Wednesday, 9th August 2023! Get ready for these monumental rock bands as they serve their megahits and moshpit-worthy tracks at the Pine Knob Music Theatre! Godsmack will also promote their new music from their newly-released effort, Lighting Up the Sky. Meanwhile, Staind will showcase their incredible hits, including their chart-dominating rock singles! The first time Godsmack and Staind shared a stage was back in 1998 during a rock festival. Lucky fans were able to witness these two phenomenal rock outfits back-to-back. This 2023, they will bring their high-energy sets to Independence Township and give fans one hell of a show! Hurry and secure your tickets now!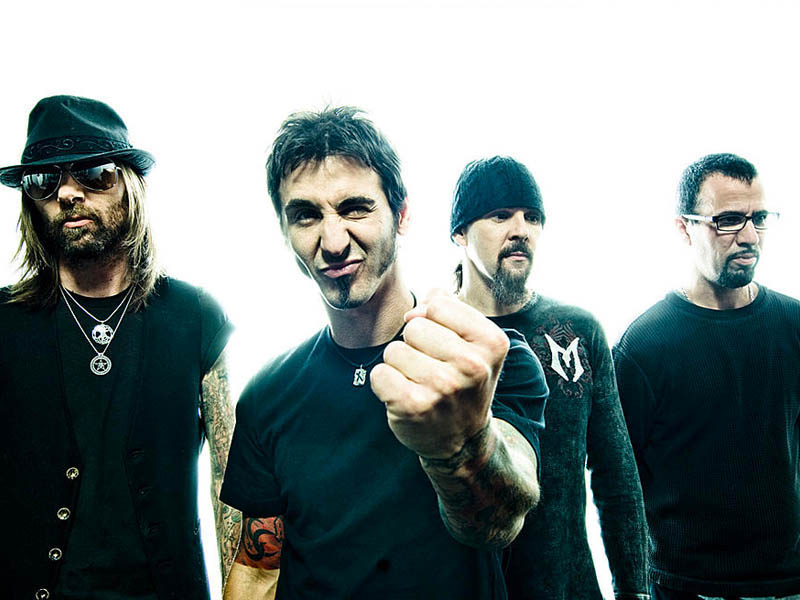 Hard rock icon Godsmack emerged in the mid-'90s and took over the rock industry! This was a time when grunge was taking a breather, and music fans were ready for something bigger, better, and louder! Godsmack entered the scene with heavy guitars, powerful double kick drums, and an out-of-this-world vocal range from frontman Sully Erna. The band was still demonstrating some post-grunge influences, especially from bands like Alice in Chains, but the members were also heavily impacted by music from Metallica and Pantera. Hence, the resulting body of work delivered hits like "Voodoo," "Awake," "I Stand Alone," "Straight Out of Line," and "Speak."
In 1998, Godsmack made their major label debut with a self-titled sophomore album. The record, preceded by four singles including "Bad Religion" and "Voodoo," entered the Billboard 200 chart, peaking at number 22. Apart from the mainstream chart, the commercially successful rock album also peaked at number 2 on Billboard's Heatseekers. Meanwhile, the singles made waves on the Hot Mainstream Rock and Alternative Songs chart, with "Voodoo" charting the highest number 5. The album sold over four million copies in the U.S., making the record the best-selling effort.
After a phenomenal major label debut, the band moved on to the 2000s with chart-dominating releases like Faceless, IV, and The Oracle – all of which topped the Billboard 200 and earned several gold and platinum-selling albums. In 2000, the band's career-defining effort, Awake, blessed fans with hard rock bangers like the title track, "Sick of Life," "Bad Magick," and "Greed."
This 2023, Godsmack will debut songs from their latest album, Lighting Up the Sky. The record was released last spring and was preceded by the hit single "Surrender."
Meanwhile, co-headliners Staind have yet to release new studio albums, but fans are still aching to see their live shows. The band came out from a long hiatus in 2019 and is ready to take over the nation with their much-awaited North American tour. Staind emerged about the same time as Godsmack. Their music has a more timid, grunge appeal but is also hard-hitting as their nu-metal counterparts. Singer Aaron Lewis showcases a more melodic approach than Godsmack. This is evident in the band's massive hit singles, "It's Been a While," "Fade," "So Far Away," and "Price to Pay." The band's more mellow sound brought them incredible mainstream success. In 2001, their third album, Break the Cycle topped the Billboard 200. Meanwhile, its lead single, "It's Been A While," peaked at number 5 on the Billboard Hot 100, their highest-performing single on the chart.
The band moved on to release four more chart-performing albums, two of which topped the Billboard 200. Moreover, Stain has earned several multi-platinums and sold over ten million albums worldwide. There have been talks of a new album on the way, but nothing official has been revealed. So stay tuned!
Catch Godsmack and Staind at the Pine Knob Music Theatre by securing your tickets now!