Pine Knob Music Theatre | Clarkston, Michigan
All hell will break loose on August 14, with Ghost bringing their "Re-Imperatour" tour to the Pine Knob Music Theatre. Tobias Forge, with the "Nameless Ghouls," will usurp the throne as the month's best performer. They are ready to spread macabre with songs such as "Bite of Passage," "Call Me Little Sunshine," "Spillways," and "Watcher In The Sky." Into their next grand voyage, Amon Amarth, as their sails bring them to this great concert, will entertain their fans with their signature Viking Metal tunes. With songs such as "Dawn of Norsemen," "Oden Owns You All," "Skagul Rides with Me," and "Saxons and Vikings," you are thrown back to the ancient journey of Vikings. Witness their incredible performance live! Get your tickets now!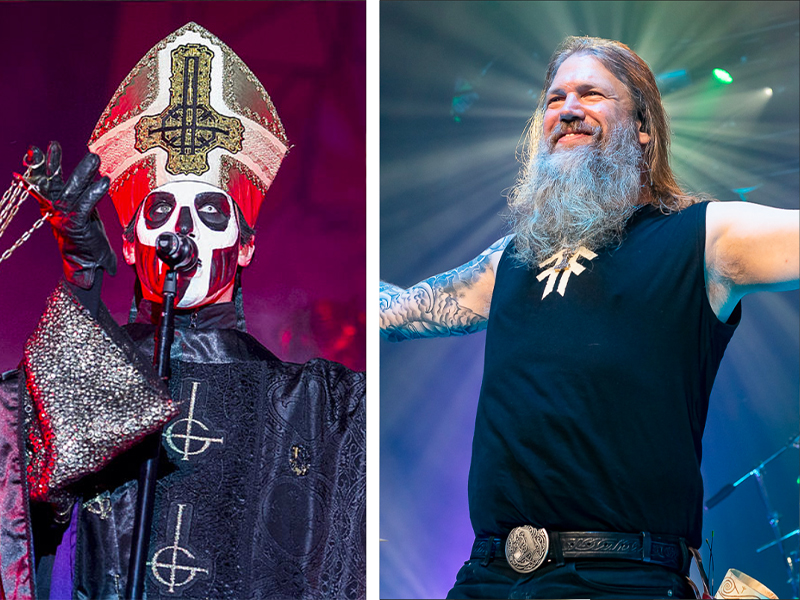 Swedish metal band Ghost is best known for its eccentric, costumed, sermon-like stage presence powered by its metal and pop-infused hard rock. Tobias Forge leads the band and serves as the songwriter and conceptualist. Along with him are his bandmates, dressed in various demonic Pope costumes. He is supported by a group of "Nameless Ghouls" concealed by cloaks and elaborate makeup. The main themes of the band's music are horror, occultism, and Satanism. Starting with their debut album "Oppos Eponymous" (2010), the band has become an odd preference of rock enthusiasts. They have gained a solid following as "Infestissumam" (2013), "Meliora" (2015), and "Prequelle" (2018) came out. Their latest album, "Impera," came out in 2022 with themes focusing on"the rise and fall of empires."
"The Lord of the Rings" inspired metal band Amon Amarth is best known for their "Viking metal," a genre dedicated to them because they consistently incorporate themes from Norse myth and its history into their music. After they formed, they made a demo called "Thor Arising," but due to technical difficulties with the recordings, they decided not to release it. Their second demo, "Arrival of the Fimbul Winter," was successfully released in 1994. Afterward, it ended up taking them more than ten years to become well-known. When their sixth studio album, "With Oden on Our Side," ascended the Billboard chart in 2006, it all began for them. The breakout album "Twilight of the Thunder God" followed it, peaking at number ten on year-end lists and receiving favorable reviews in 2008. In 2022, they released a new album called "The Great Heathen Army" after a few reasonably well-received follow-up albums.
Ghost will be headlining their "Re-Imperatour" American tour this year. If you are a long fan time or someone interested in their aesthetic, see them at the Pine Knob Music Theatre on Monday, August 14. Buy tickets now!