Pine Knob Music Theatre | Clarkston, Michigan
HUGE news G-Eazy fans!! The rapper has announced his HUGE second coming of the Endless Summer Tour, teaming up with massive names including Lil Uzi Vert and Ty Dolla $ign! It's all happening on Thursday 16th August 2018 at DTE Energy Music Theatre! DON'T miss out – grab your tickets NOW while they last!!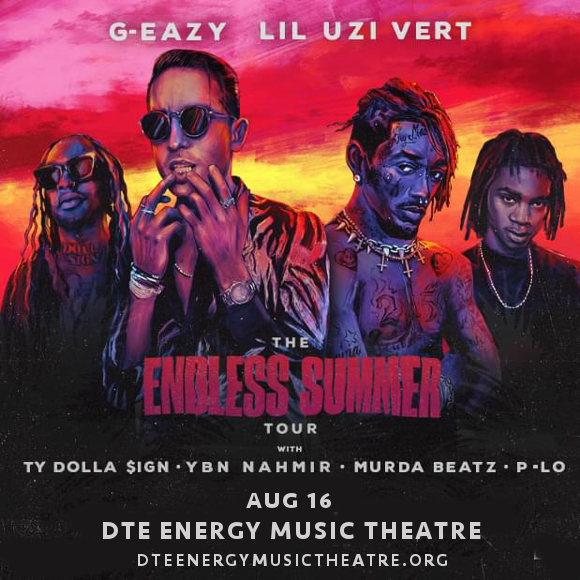 Following his The Beautiful & Damned 2018 Tour in Spring, G-Eazy is taking his new album onwards in an all-new tour with Lil Uzi vert and Ty Dolla $ign. His latest album is his third, and made waves when it was released in December last year, hitting number 3 on the Billboard 200 with sales of 122,000 album units – making each and every one of G-Easy's records a top-10 selling album!! "The dueling narrative he conveys is as desperate, humble, and confessional as it is brazen, celebratory, and loud in its own hubris," was the description of the album "The Beautiful & Damned" in a press release. "He is in the middle of a very serious conflict with his alter ego and he has genuine concern as well as thoughts about how to get back to who he is as person." The albu also features some special guest appearances from artists including Charlie Puth, Halsey, ASAP Rocky and Kehlani!!
It's going to be a truly epic tour – no hip-hop fan can afford to miss this!! Grab your tickets NOW while they last!