Pine Knob Music Theatre | Clarkston, Michigan
Foreigner are celebrating their 40th anniversary, and to mark it, the band are embarking on a mammoth tour! Bringing the incredible Cheap Trick & Jason Bonham's Led Zeppelin Experience with them as support, Foreigner will be rocking the stage at DTE Energy Music Theatre on Friday 11th August 2017!
"I could never have dreamed this would happen or that we would still have some kind of relevance 40 years later. It's unbelievable, really," says group founder Jones, who formed Foreigner during 1976 in New York, releasing its first album a year later. "I think it's fitting at this point that we do this. I'm very proud of everything we've done and what we've achieved, and of how the new band [lineup] has fought back for me and for the heritage of Foreigner. It's kind of the way I always dreamed that Foreigner would appears, as a very exciting live band and everything that goes along with it. It's really been very inspiring for me."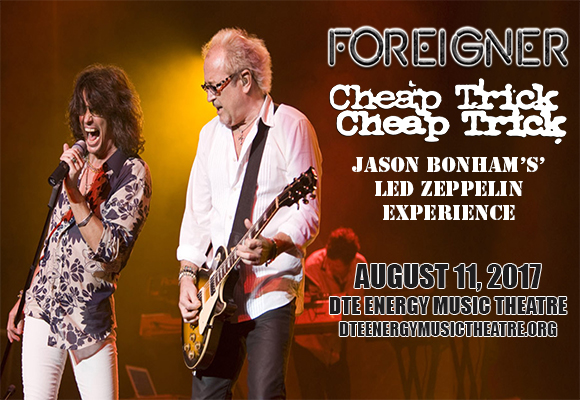 Formed in 1974, in Rockford, Illinois, Cheap Trick are an American rock band. The band released their self-titled debut album in 1977, to moderate success in the US at the time, and similar was to be said of their second and third albums. However, in Japan, Cheap Trick's first three albums became gold records, and when they arrived to tour the country for the first time in 1978, they were greeted with a hysteria akin to Beatlemania. When in Japan, the band recorded a live album, Cheap Trick at Budokan, which launched them into international stardom, with the LP certified triple platinum in the United States. Their live version of "I Want You to Want Me" (a song that had originally been released on their second album In Color), reached No.7 on the Billboard Hot 100, becoming their biggest single. The band was ranked No.25 in VH1's list of the 100 Greatest Artists of Hard Rock and in December 2015, was elected for induction into the Rock and Roll Hall of Fame.