Pine Knob Music Theatre | Clarkston, Michigan
As 2022 continues rising and shining brighter, it's time to sing 'the dog days are over!', celebrating the big return of live music across the country, with Florence and The Machine calling you to join in the 'dance fever at Pine Knob Music Theatre on Saturday, 10th of September 2022. The band is set to drop their upcoming new album "Dance Fever" in May 13th. You can expect Florence and The Machine to play their biggest hits like "Shake It Out" and "Dog Days Are Over", and fresh new tracks off of "Dance Fever, live on stage on this comeback tour. Celebrate the end of the 'dog days and join in the 'dance fever by booking those tickets now!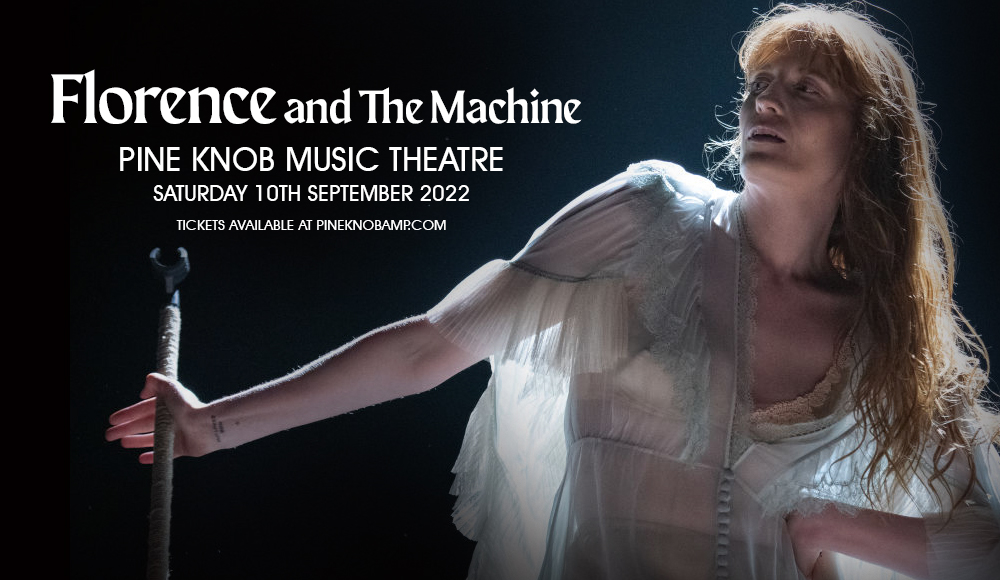 "The name Florence and the Machine started off as a private joke that got out of hand. I made music with my friend, who we called Isabella Machine to which I was Florence Robot. When I was about an hour away from my first gig, I still didn't have a name, so I thought 'Okay, I'll be Florence Robot/Isa Machine', before realizing that name was so long it'd drive me mad." said lead singer Florence Welch.
Florence and The Machine started as an early collaboration between friends Florence Welch and Isabella Summers in the middle of '07 and '08, recruiting future members along the way. Present members include lead vocalist Florence Welch, Isabella Summers on keyboards and synths, Robert Ackroyd on guitars, Tom Monger on harp, xylophones, and percussions, bassist Cyrus Bayandor, Aku Orraca-Tetteh on percussions, Dionne Douglas on violins, Hazel Mills on keyboards, and Loren Humphrey on drums.
Florence and The Machine released their debut "Lungs" in 2009, to which it received critical acclaim. It featured the RIAA 4x Platinum hit single "Dog Days Are Over" which brought the band to the global stage. Their succeeding singles, "You've Got the Love", "Cosmic Love", "Shake It Out", "Spectrum (Say My Name)", "Hunger", and so much more, made Florence and The Machine a staple indie-rock favorite act across the globe.
With their fifth studio record coming out real soon, Florence and The Machine dropped a number of new singles that give listeners a taste of the 'dance fever to come. The first single dropped off of the new album is "King" – where Welch reveals a struggle with her womanhood and career as a performer.
"I suddenly feel this tearing of my identity and my desires… "To be a performer, but also to want a family might not be as simple for me as it is for my male counterparts…," says Florence Welch.
The next single fresh from the upcoming record is "Heaven Is Here". Welch said in an Instagram post – "I wanted to make something monstrous. And this clamour of joy, fury and grief was the first thing that came out,".
With "Dance Fever" coming out real soon which Welch describes as "A fairytale of 14 songs," in the big reveal, Florence and The Machine shared their newest single "My Love", prior to the album's release.
"Dance Fever" marks the start of a new captivating era for the band and its fans who had always stuck around for Florence and The Machine's magnetic lyrics led by Welch's alluring vocals. Are you in for this new fairytale in "Dance Fever"? Hop in and grab your tickets now!