Pine Knob Music Theatre | Clarkston, Michigan
Dave Matthews Band is playing a whopping 60-dates this summer, and one of their much-awaited stops is right here at the DTE Energy Music Theatre on Tuesday 9th July 2019. The band is reputed for their relentless passion for touring and playing live to reach out to as many fans as possible. Dave Matthews Band has dropped this announcement, and their legions of fans are not taking the news sitting down. They're on a mad dash to get hold of those precious tickets. With DMB's slated performance just around the neck of the woods, and with tickets booking just within reach of your fingertips, this DMB concert is easily yours for the taking. Now, what's your excuse?! Go, you're just a few clicks away from experiencing an iconic live performance from one of the most accomplished and seasoned artists of all time.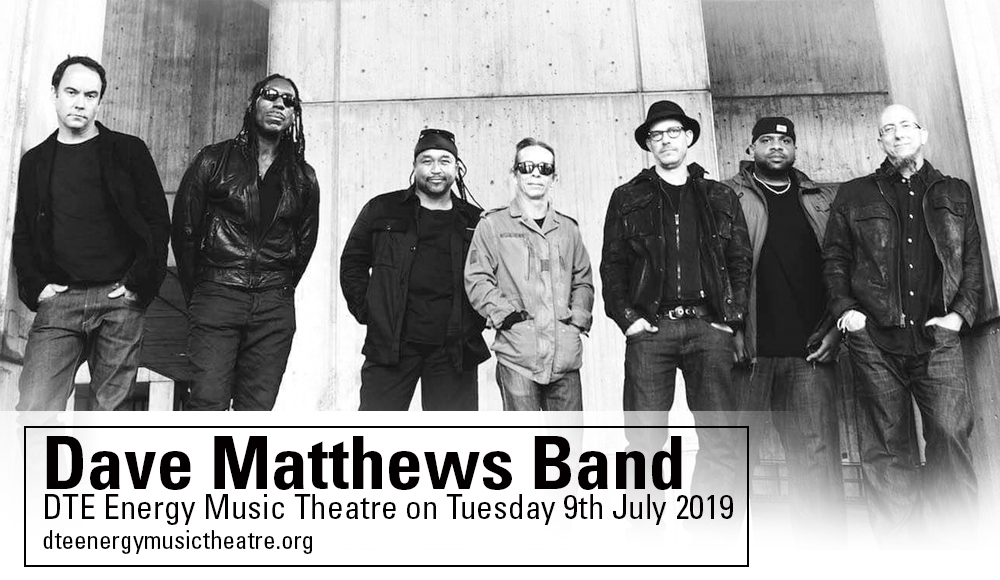 Dave Matthews Band presumably abides by the credo that no artist could live on album sales alone. This band lives and breathes by the air around stadiums, clubs, and concert hall. They get a revitalizing love and energy exchange from concert crowds. No wonder, they could manage to pull-off 60 tour dates in one touring season. And the cycle goes on and crowds keep coming back for more. They embark on a tour year after year, summer after summer. Thus, it comes as no surprise that Pollstar hailed the Dave Matthews Band as the highest-grossing North American touring act of the decade beginning in 2000, grossing nearly $530 million.
Founded by singer-songwriter and guitarist Dave Matthews, DMB's current line-up includes bass guitarist Stefan Lessard, drummer, Carter Beauford and saxophonist Jeff Coffin. Together, they play hours and hours of jam and improv renditions of their best-loved classics such as "Crash into Me," "What Would You Say," "Satellite," "Ants Marching", "So Much to Say," and many more. They have released seven studio albums to date. Their most recent album released in 2018, Come Tomorrow, debuted at No. 1 on the US Billboard 200 chart. With this, they've added another feather to their cap as the only group to have all seven consecutive studio albums debut at number one.
An artist of this caliber is best experienced live. Do yourself a big favor now by booking tickets to this show. Your future self would be forever grateful for it.