Pine Knob Music Theatre | Clarkston, Michigan
Two of the biggest alt-rock bands of the 90s, Counting Crows & Matchbox Twenty, are heading to DTE Energy Music Theatre on Saturday 23rd September 2017 as part of their A Brief History of Everything Tour! Having been on the road with Matchbox Twenty frontman Rob Thomas for much of last year, Counting Crows lead singer Adam Duritz had this to say:
"To be honest, we took a vote after last year and decided to spend every summer with Rob from now on," Duritz said in a statement. "Can. Not. Wait."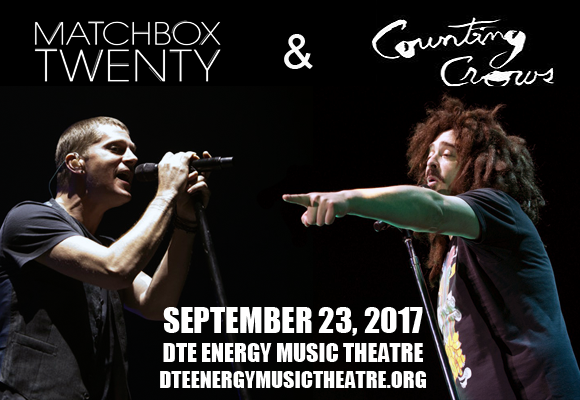 Originally an acoustic duo, formed by singer Adam Durlitz and producer/guitarist Dave Bryson in 1991 in Berkeley, California, Counting Crows is an American alternative rock band. 1993 saw the duo become a group, signed to Geffen Records that year and releasing their debut album August and Everything After in September. The album launched the hit single "Mr Jones", the popularity of which lead the record to become the fastest-selling album since Nirvana's Nevermind. To date, the band has sold more than 20 million albums worldwide and in 2004 won an Academy Award nomination for the song "Accidentally in Love," which was included in the film Shrek 2.