Pine Knob Music Theatre | Clarkston, Michigan
This is a real treat for fans of both groups to experience again the power-packed collaboration of Earth, Wind & Fire and Chicago! They will be here at DTE Energy Music Theatre on Wednesday 26th August 2015 as part of their co-headlining tour! The tour will provide unparalleled entertainment from two of America's most legendary musical groups and has been able to fill arenas with satisfied fans with music that has endured throughout time. So get yourselves ready for this unforgettable experience!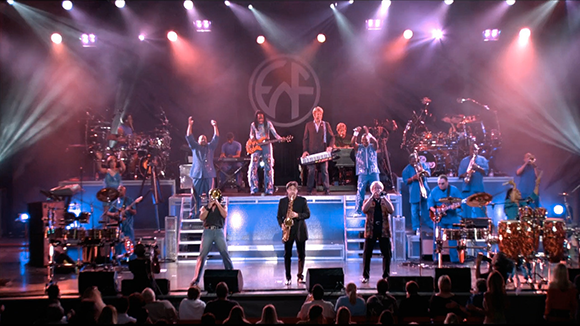 Chicago is one of the most successful rock bands in America and they are among the Top Ten best-selling US musical groups of all time. With hits such as 'Hard To Say I'm Sorry', 'If You Leave Me Now', 'You're the Inspiration', and 'Hard Habit to Break', Chicago may well be most widely identified from the Peter Cetera and its era of radio-friendly power ballads, but its career spans further and wider than their string of No. 1's.
Earth, Wind & Fire were one of the most musically accomplished, critically acclaimed, and commercially popular funk bands of the '70s. Conceived by drummer, bandleader, songwriter, kalimba player, and occasional vocalist Maurice White, EWF's all-encompassing musical vision used funk as its foundation, but also incorporated jazz, smooth soul, gospel, pop, rock & roll, psychedelia, blues, folk, African music, and, later on, disco. Lead singer Philip Bailey gave EWF an extra dimension with his talent for crooning sentimental ballads in addition to funk workouts; behind him, the band could harmonize like a smooth Motown group, work a simmering groove like the J.B.'s, or improvise like a jazz fusion outfit. Earth, Wind & Fire are described as funk-fusion powerhouse that changed the sound and history of popular music!