Pine Knob Music Theatre | Clarkston, Michigan
Oh come on, let it all go with Boy George & Culture Club live at the Pine Knob Music Theatre on Friday, August 4th, 2023. Featuring very special guests Howard Jones and BERLIN, The Letting It Go Show 2023 Tour hits hard in Clarkston, Michigan this summer and there's a space waiting just for you and your friends! Get your tickets here and enjoy an insanely creative gig with the pomme Boy George and his band, Culture Club as they bring out all the hits, including "Do You Really Want To Hurt Me," "Karma Chameleon," and "Church of the Poisoned Mind," all the way up to their newest releases like "Let Somebody Love You," and "Human Zoo."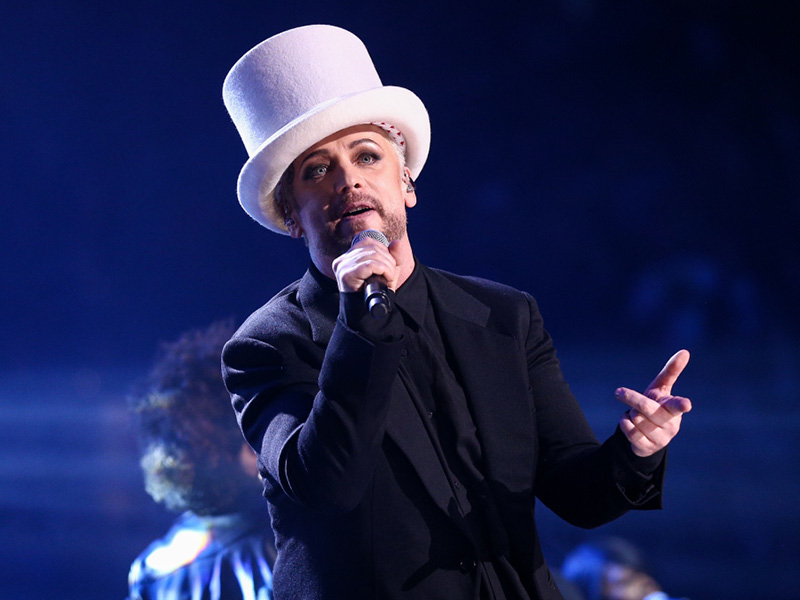 George Alan O'Dowd, known in the musical fraternity, simply as Boy George, is an English singer, songwriter, and DJ. He is also an author, a mixed media artist, fashion designer, photographer, West End and Broadway actor, TV personality, and just started an acting role in 2022. Boy George began the pop group, Culture Club, and has been the lead singer since the group's formation in 1981. During the early '80s, the group brought out seven straight Top Ten hits in the U.K. which converted to six Top Ten singles in the U.S. playing their light, infectious soul infused Pop sound, heavily influenced by rhythm and blues and reggae. The band's second album, while with the Culture Club, sold more than 10 million copies worldwide in 1983. George's charismatic, androgynous look, inspired by rock pioneers David Bowie and Marc Bolan, certainly played a large part in the group's success, creating an instant spectacle on early MTV.
He went solo in 1987, created his own label and recorded under the name, Jesus Loves You, while also writing under the pseudonym, Angela Dust, releasing several underground hits through the 90s. While simultaneously beginning a DJ career in 1990 where he played for promoters Fantazia, and produced several gold remix albums. By 1997, Boy George & Culture Club reunited for a brief, but successful tour and produced the Greatest Moments, a compilation album which went platinum in the UK. It included new songs such as "I Just Wanna Be Loved", landing at the number 4 spot on the UK charts. The band toured for a final time in 2002,before finally going on hiatus due to George's increasingly successful DJ career and upcoming performances of Taboo on London's West End and Broadway.
Culture Club attempted a 2006 tour, launching with a new lead singer, Sam Butcher, but when George described Sam as "terrible" and "dreadful". Saying, "I wanted to like it, but I couldn't. They're my songs, they're my heart, they're my life." The band ultimately failed to tour, and the idea was abandoned by early 2007. Then in 2014, the band reformed and announced a tour with a new album, and toured extensively through Europe and The UK and finally made it back to the US in 2015 and 2016
Outside of music, Boy George has been involved in many and varied activities, among them songwriting, authoring books, designing clothes and photography. He made several appearances on television, most notably, appearing as a contestant on the 22nd UK series of I'm a Celebrity…Get Me Out of Here! in November 2022, finishing the series in 8th place. He has received several awards as a solo artist and as well as a member of Culture Club. In 2002, he was voted 46th in a BBC poll of the 100 Greatest Britons. In 2015, Boy George received an Ivor Novello Award from the British Academy of Songwriters, Composers and Authors for Outstanding Services to British Music.