Pine Knob Music Theatre | Clarkston, Michigan
R&B's finest moments are happening this year at the Bounce TV Summer Music Festival 2014! Catch Maze, Frankie Beverly & Patti LaBelle live onstage at the DTE Energy Music Theatre on Friday 12th September 2014.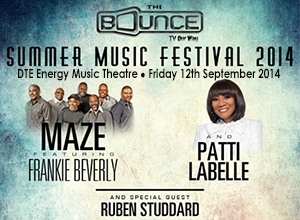 Witness soul and R&B's finest hour unfolding right here at the stage of the DTE Energy Music Theatre. Bounce TV has assembled yet another power house line-up guaranteed to blow you away and take you to the heights of soul heaven.
Maze, featuring Frankie Beverly, has been drivin' the soul train since the 70s, with all-time favorite hits like "Before I Let Go", " Golden Time of Day", "Joy and Pain", "Southern Girl", "Happy Feelings", and many more. Maze tirelessly and continuously hits the road to perform in music halls and music festivals. Their brand of soul, funk, and r&b is often described as 'quiet storm'. Maze can whip up a whirlwind of emotions with his unique soulful style.
Patti LaBelle is legend. A well-loved and respected music icon who has brought over 50 years of unforgettable hits such as "Over The Rainbow", "On My Own", "If You Only Knew", "New Attitude", and the soul-funk-disco anthem "Lady Marmalade," to name a few. Her driving energy onstage and fierce vocal power has earned her monikers such as the "Godmother of Soul", "Queen of Rock and Sou", and the "high priestess of good vibrations". LaBelle has sold over 50 million albums worldwide, and has been inducted in the Grammy Hall of Fame, The Hollywood Walk Of Fame, The Apollo Hall Of Fame, and the Songwriters' Hall Of Fame.
Making a special appearance in this show is American Idol Season 2 grand winner and alumnus, Ruben Studdard. Fans endearingly call him 'the velvet teddy bear'. His smooth as silk soulful vocals will pull your hearts' strings, making this show a truly memorable experience.
Soar with emotions, burst with energy, and feel nothing but good vibrations. Get the complete soul and r&b experience that will leave you wanting for more… The Bounce TV Summer Music Festival Tickets now on sale and moving fast. Catch 'em while you can!