Pine Knob Music Theatre | Clarkston, Michigan
Spend this year's summer like it is your last! Barenaked Ladies brings with them Five for Fighting and Del Amitri in a night of intimate nostalgia at the Pine Knob Music Theatre on July 22. This concert is going to be a Rock Spectacle. Barenaked Ladies will be bringing humor to their rock, playing classics like "If I Had $1000000" and "One Week." Heartfelt and hopeful tunes will come after as Five for Fighting sings his bests like "Superman (It's Not Easy)" and "100 Years." Completing the night is the old-school alternative rock from Del Amitri with songs like "Always the Last to Know" and "Tell Her These." From 90s rock to 2000s alternative pop rock and back to 80s Beatlesque music, this is going to be a journey to different eras of great music. Get your tickets now!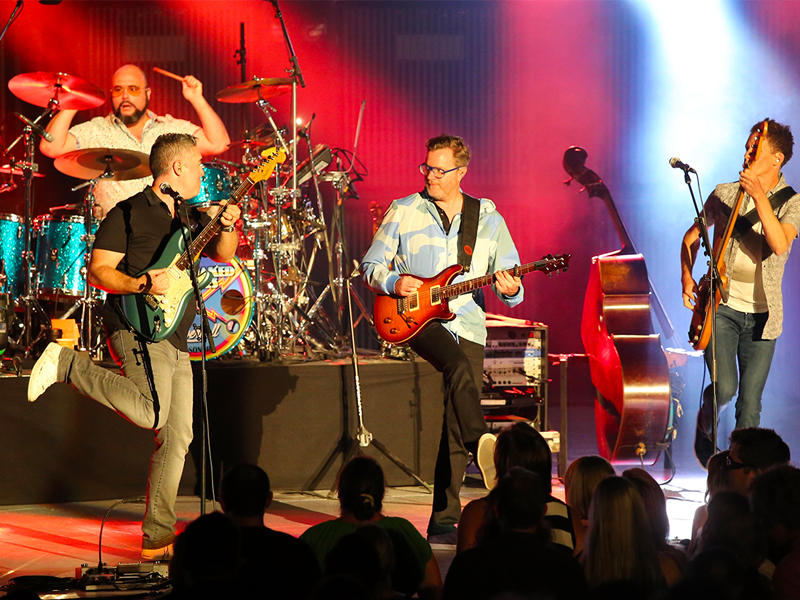 Created in 1988, Barenaked Ladies reached international stardom for their humorous songs, which are mostly mixtures of folk and pop rock. Beginning as an acoustic band, they first gained traction in Canada with their debut studio album "Gordon," which made waves in 1992. They started to reach the US audience with their 1996 album "Rock Spectacle." Afterward, their international mainstream success was made official when the next album, "Stunt," came out. As the band progressed through its career, its music grew to incorporate pop, rock, and rap. In March 2018, they were inducted into the Canadian Music Hall of Fame with over 15 million albums and singles sold. Also, the band has won multiple Juno Awards and has been nominated for two Grammy Awards. Their current lineup consists of Ed Robertson, Jim Creeggan, Tyler Stewart, and Kevin Hearn.
Five for Fighting is the brainchild of Vladimir John Ondrasik III. Considered one of the best during the late 90s and 2000s, Five For Fighting released songs that made marks in pop culture. His breakthrough came after his song "Superman (It's Not Easy)" came out, which became an anthem of hope after the 9/11 attacks. He has released multiple Top 40 hits in his career, such as "100 Years," "The Riddle," "World," "Chances," and "Blood on My Hands." During the 200os, Five for Fighting solidified his spot as among the greatest artists and became one of contemporary pop music's most enduring balladeers.
Del Amitri is alternative rock royalty with a style of pop that evokes Beatles vibes while still retaining the country and rock influences that made them a radio and road staple throughout the 1980s. The band has blessed the music industry with songs like "Always the Last to Know," "Tell Her These," "Be My Downfall," and "Driving With the Brakes On." Currently, the band consists of Justin Currie, Iain Harvie, Andy Alston, Ash Soan, and Kris Dollimore.
For this year's Barenaked's "Last Summer On Earth" tour, Five For Fighting and Del Amitri comes along. See them live at Pine Knob Music Theatre on Saturday, July 22. Ticket sales are now open! Get yours now!