Pine Knob Music Theatre | Clarkston, Michigan
East coast meets west coast as ASAP Rocky & Tyler The Creator join forces for a massive co-headlining tour! The hiphop superstars will make nine stops together and the stint, dubbed the "Rocky and Tyler" Tour, sees support from fellow rappers Danny Brown and Vince Staples! Head to DTE Energy Music Theatre on Saturday 26th September for a night of tasty hiphop!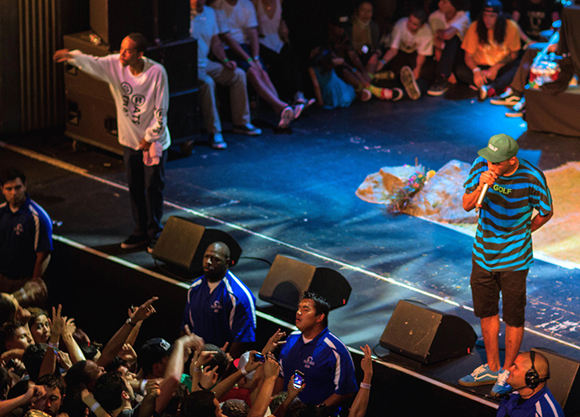 A$AP Rocky joined A$AP Mob in 2007 – a Harlem-based collective of rappers, producers, music video directors, fashion designers, and bikers. Four years later he released the mixtape Live. Love. ASAP to critical acclaim and signed a two-year, $3 million record deal with RCA Records and Polo Grounds Music, and started his own label, A$AP Worldwide. Rocky's debut album Long. Live. ASAP was released in January 2013, peaking at number 1 in the US Billboard 200 and Top R&B/Hiphop Albums charts and by March 2015 was certified gold by the Recording Industry Association of America, for the shipment of 500,000 copies in the United States. His eagerly awaited second album At. Long. Last. ASAP debuted at number one on the Billboard 200, selling 116,000 copies in the United States. The album spent two more weeks in the Billboard 200's top ten and also spent four weeks at number one on the Top R&B/Hip-Hop Albums Chart.
Tyler, The Creator founded alternative hiphop collective Odd Future around 2006-2007 in Los Angeles. He self-released his debut album Bastard in December 2009, which was eventually ranked 32nd on Pitchfork Media's list of the Top Albums of 2010. A month before his second album, Goblin, was released on XL Records, he signed a joint venture deal for him and his label Odd Future Records, with RED Distribution and Sony Music Entertainment. His third album Wolf was released on April 2, 2013 and featured guest appearances by Frank Ocean, Mike G, Domo Genesis, Earl Sweatshirt, Left Brain, Hodgy Beats, Pharrell, Casey Veggies and Erykah Badu. Almost exactly two years later, his fourth album Cherry Bomb was released to generally positive reviews.