Pine Knob Music Theatre | Clarkston, Michigan
Get shookt to the bone as Alice Cooper, featuring Ace Frehley, go on a headlining tour that would take them to this neck of the woods. Catch them at the DTE Energy Music Theatre on Saturday 25th September 2021. Alice Cooper, a Rock And Roll Hall Of Fame inductee no less, joins forces with original KISS guitarist Ace Frehley to bring a fiery mix of shock and rock as you've never experienced before. Don't miss out on the rock-psycho drama that will unfold on the live stage. But the scariest part is not being able to get tickets and missing the show! Don't miss a beat; hit that 'get tickets' link on this site to book your tickets now!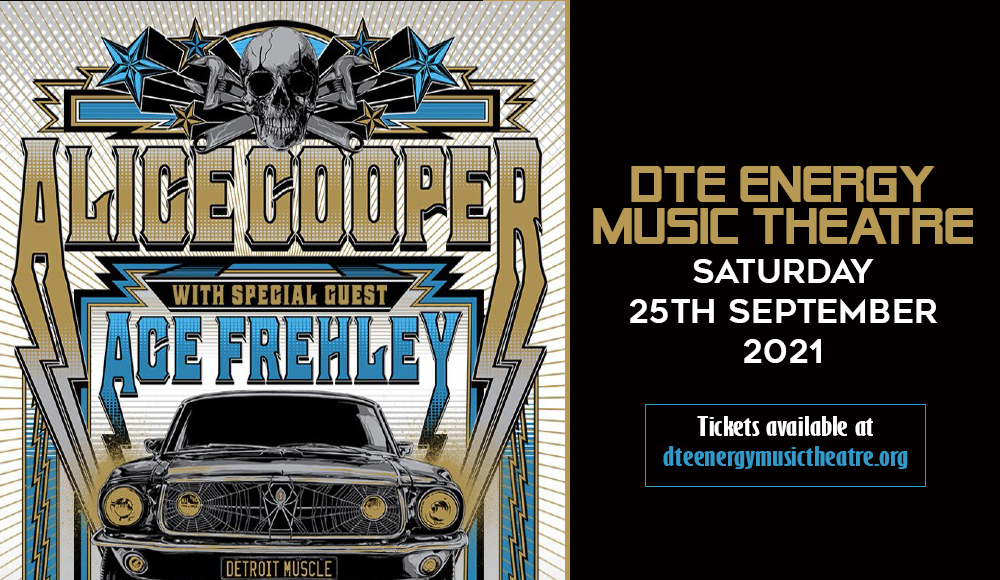 Hailed as The Godfather of Shock Rock, Alice Cooper pioneered a brand of heavy metal sound that included visual stage theatrics of pyrotechnics, guillotines, electric chairs, fake blood, reptiles, baby dolls, and dueling swords.
Credited by the music industry as the "first [to] introduced horror imagery to rock and roll, and whose stagecraft and showmanship have permanently transformed the genre". Alice Cooper, the band, peaked in commercial success with their 1973- sixth studio album, Billion Dollar Babies. In 2015, Cooper received the Classic Album Award for his groundbreaking album Welcome to My Nightmare. The Rolling Stone Album Guide has called him the world's most "beloved heavy metal entertainer". Alice Cooper has his name etched in pop culture, not only as a rockstar, but being a film actor, a golfing celebrity, a restaurateur, a radio DJ, with a career spanning over 60 years.
Alice Cooper has been touring non-stop, and this time around he's taking Kiss guitarist Ace Frehley for a ride in yet another headlining tour de force.
"We've always had fun touring together and it should be a heavy rock show with Ace and a great way to get everyone back to live concerts again," says Cooper. "It should be a great night of virtuoso guitars!"
"I've known Alice for over 30 years," says Frehley. "We're good friends, and we've toured together numerous times and always had a blast. Our musical roots are very similar, and the combination of our two bands make for a great event that nobody is gonna want to miss. Being off the road for more than a year because of the pandemic has been tough on everyone in the music industry, and I'm really looking forward to seeing all of the fans happy, healthy, and ready to rock."
Indeed, generations of rock fans are raring to be shock-rocked! Blood, guts, and gore, and a chunk of rock 'n roll. Don't miss it! Book your tickets now!