Pine Knob Music Theatre | Clarkston, Michigan
50 Cent sent the whole industry into overdrive when he released the album, "Get Rich or Die Trying." Now, 20 years later, it is time to celebrate its anniversary, and Fif is doing it in style with a brand new tour called, "The Final Lap Tour." Giving showgoers that extra oomph, he will bring along with him special guests, Busta Rhymes and Jeremih. It's all going down at the Pine Knob Music Theatre on Sunday, September 17, 2023, and you're invited to be part of one of hip-hop's most hotly anticipated events. You can expect to witness all of the hits that made the album so special in the first place, like "In da Club," "Many Men," and the street anthem "If I Can't." His unique stage presence and confident demeanor will have fans going crazy as he performs hit after hit, and you cannot afford to miss out, so be sure to grab your tickets on this webpage by selecting the "GET TICKETS" button and following the simple prompts.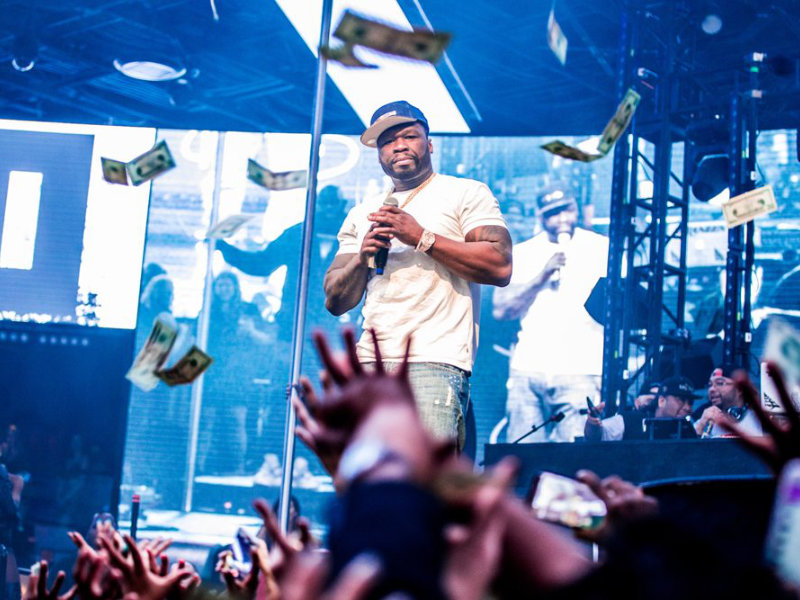 Curtis Jackson was born to a single mother; her name was Sabrina, but she died in a fire when Fiddy was only 8 years old. From then on, it was the hard knock life for 50, getting caught up in the life of gangs and drugs, but his story is an incredible one of redemption and perseverance to become one of the biggest hip-hop artists of our time.
He was introduced to hip-hop by a friend, and Jackson would cut his teeth rapping over instrumentals in a basement. He was eventually discovered by the legendary producer Jam Master Jay of Run DMC fame. His style was very raw, and Jay saw a lot of potential in him and taught him how to polish up his flow by counting bars and creating catchy flows.
Under Jay's expert wisdom, the two created several songs, but 50 started becoming an underground sensation. When "How to Rob" came out, 50 was shot into the spotlight, and he did it by creating something that nobody else in the industry was doing at the time. At that point, he was destined for fame, but unfortunately, fate had other plans, and the then young Jackson was hospitalized after being shot nine times. During his time in the hospital, he signed with Columbia Records, but it fell through, and he was back to square one.
Through sheer coincidence, a previously released mixtape, "Guess Who's Back," was discovered by Eminem in 2002, who was so blown away by it that he put 50 on to his mentor, Dr. Dre. The Doc helped Jackson create a new mixtape, "No Mercy, No Fear," which put him back in the game again.
Destined for greatness, Fiddy's chance came with the album "Get Rich or Die Trying." It was released in 2003 and was easily the most hyped album out there, selling just under 1 million copies in its first four days.
From then on, it was all about Fifty; he launched an acting career with the box office hit, "Get Rich or Die Trying" and went on to produce TV shows like BMF and Power. He is also a savvy businessman, launching his own clothing label, G-Unit, and signing deals with Reebok and Coca-Cola worth millions of dollars. Someone this talented is a very rare find, and watching him perform is a real treat. So be sure to secure your tickets on this site right now!!!