Pine Knob Music Theatre | Clarkston, Michigan
HUGE NEWS!! 30 Seconds To Mars are BACK with an all-new album, and they're taking it on tour in 2018!! Accompanied by Walk The Moon and MisterWives, they're coming to rock the DTE Energy Music Theatre on Tuesday 12th June 2018! That's right, it's time to catch the band that brought you "The Kill," LIVE – be sure to book your tickets well in advance, as they are going to sell out quick!!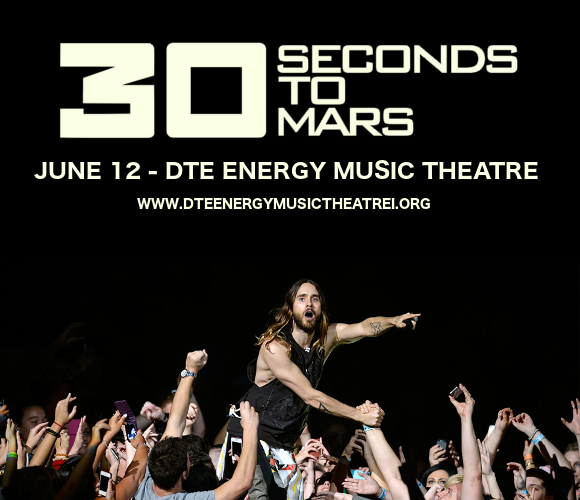 Since their self-titled debut, 30 Seconds To Mars have shown a diverse range of sonic influences in their music, a trend that only continued with their following albums, in particular "This Is War," which brought elements of experimental music into an already very wide-ranging, yet musically consistent sound. This new album is promised to be just the same – as in, completely different!
"I think that's exciting," Jared Leto commented, when asked about the constantly evolving nature of the band's sound. "Every time you make an album, every time write a song, you have the ability to redefine, reimagine and to experiment and take chances… I'm a big believer that it's okay to let go of your past and explore new territory, so that's what we're doing."
We can't wait to hear what changes are up and coming on the new album!! Be among the first to hear all the new songs live – get your tickets to see 30 Seconds To Mars with Walk The Moon at the DTE Energy Music Theatre on Tuesday 12th June NOW while they last!!